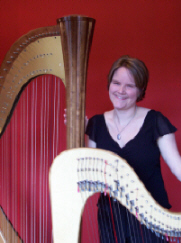 As a small child, Hannah's parents took her to the ballet, The Nutcracker, every year at Christmas. While most little girls might dream of one day becoming a ballerina, Hannah, having heard the beautiful harp solo, began to pester her parents for harp lessons.
At the age of 10, Hannah won a scholarship to attend the junior department at the Royal College of Music in London. She later transferred to the junior department of the Guildhall School of Music and Drama at the Barbican where she continued her harp studies under Charlotte Seale.
In 1997, Hannah left London for Durham, where she met her future husband, studied for a degree in politics and played the harp with various ensembles, including Durham University Symphony Orchestra and the University Chamber Orchestra, with whom she went on tour to Belgium.
Hannah graduated with a first class degree in 2000, and then in 2003, following a spell working in London (whilst playing for the Richmond Chamber Symphony), she and her husband relocated to Edinburgh. In Scotland, Hannah has played with the Edinburgh Symphony Orchestra, Philomusica of Edinburgh and Scottish Sinfonia.
In recent years, Hannah has been in increasing demand as a soloist. Having for many years performed for friends and relatives' weddings and parties, in March 2005 she officially launched her harp business after attending a Women into Business course and gaining a grant from Scottish Enterprise.
Hannah's first engagement was in March 2005 on the occasion of the opening of the newly refurbished palm house at the Royal Botanic Gardens, Edinburgh. Since then, she has performed for several events, from the very formal to family barbeques in clients' back gardens! Recent performance venues have included Houston House Hotel, Linlithgow Palace, Edinburgh Castle, The Royal College of Physicians, North Edinburgh Arts Centre and the Royal Yacht Britannia.