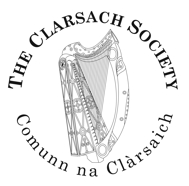 The Clarsach (harp) is Scotland's oldest instrument, having been played throughout the land from very earliest times. Two old clarsachs, from the 15th and 16th centuries, survive, and may be seen in the National Museum. The modern instrument, though larger and with gut rather than wire strings, is based on their design.
For various historical reasons, harping almost died out by the end of the 18th century, and the music, never written down, was lost. Good new instruments are now being made and The Clarsach Society (Comunn na Clarsaich) has encouraged a great revival of interest in the instrument, especially amongst young players, who enjoy its adaptability to solo work, accompaniment or ensemble playing. The Clarsach Society exists to promote the instrument and to help players. The constitution states that the objects of the Society shall be to advance the education of the public in the music and the playing of the clarsach. It has 11 local branches throughout the UK and a special interest group for wire strung harp enthusiasts. The Administrator of the Society, organises the Harp Hire scheme and the sale of the Society's Music Folios.
The Clarsach Society organises the Edinburgh International Harp Festival each spring.
For more on the history of the clarsach, please visit the societies web site.