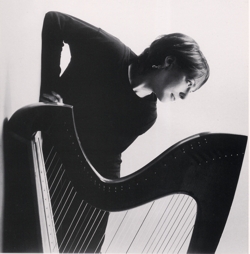 Wendy Stewart: "A harper of her time" (Scotsman) playing "beautifully rounded, state of the art tradition" (Glasgow Herald), is firmly established as a performer, writer, teacher and communicator of some of the most captivating and enduring Scottish harp music today.
Having started playing through the Clarsach Society in Edinburgh at an early age, Wendy has gone on to tour the world, play with many other fine musicians (notably in the band Ceolbeg), and acquire a breadth of traditional influences.
Now resident in South West Scotland, the music, like the Cairn Water nearby still flows.