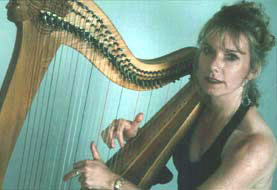 Claire Hamilton
I have long been fascinated by Celtic myths, which I came to first through my Celtic harp. I was inspired by harpers like Alan Stivell, who revived the old Breton songs and who introduced me to some ancient Welsh ones too. This fed into my literary interests and led me to do an MA in the Bardic Tradition of Ireland.
After that I found myself blending writing and performing music by joining The Company of Strangers, a theatre group with whom I wrote and presented several Celtic myths. Having explored the myths in all these ways, I find they contain deep wisdom which is still relevant today. Now that Steve and I live in Wales I write and play my harp overlooking the River Wye.
Claire Hamilton has a joint degree in Drama and English from Bristol University and an MA in English Literature. She has written a range of both fiction and non-fiction works including several Teach Yourself books, a Day Book and historical books on ancient and mediaeval traditions. In particular she has written about and creatively rewritten tales from mythology, and sees myth as a powerful source of character, archetype and symbol.
Claire has been published by Hodder, Random House, and Barnes and Noble in America, amongst others. She is currently working on a novel.