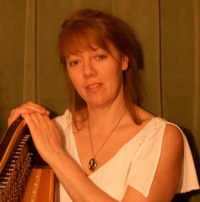 Sue Rothstein has led a successful career as a freelance harpist following her classical training with the renowned Renata Scheffel-Stein at the Royal Academy of Music. Sue received several awards and was a prize winner in the first national harp competition held in Oxford. Her harmony teacher Dr Paul Steinitz encouraged her compositions.
As a freelance player she has worked with many orchestras, particularly the BBC Concert Orchestra and English National Ballet, with regular trips to play with The Ulster Orchestra and the Symphony Orchestra of Tenerife. Sue has taken part in numerous concerts and recordings working under conductors such as Vladimir Ashkenazy, Vernon Handley and Barry Wordsworth. Sue has worked as a soloist and chamber artiste with several ensembles, notably the Fine Arts Chamber Ensemble with her late father, Jack Rothstein.
Sue together with Sarah Deere-Jones formed The London Harp Duo. They performed up and down the country at festivals and functions, made live broadcasts for BBC television and sailed round the world on the QE2. Being a versatile player has also given her opportunities to work for pop musicians such as Petula Clark, Rick Wakeman and Barry White. Sue has played for numerous private events and weddings using many of her own harp arrangements and has performed for British and foreign royalty. Sue's latest collaboration is with singer Bronwen Harrison in their duo, Harpeggiola.
As a composer, Sue has written serious and light compositions primarily for combinations of harp, piano and voice. Several of her works were premièred at Trinity Laban Conservatoire of Music and Dance (formerly Trinity College of Music) in 2007. For many years her children's pieces from 'Animals on the Harp' have been on the exam syllabus, as well as being used as set pieces for competitions abroad. In 2012 pieces from The Dream Studies and Three Moods have been added to the grade six and grade eight list of the Trinity Harp Exam Syllabus.
Residing in London with her family, Sue also teaches harp at the Latymer Saturday Music Centre and Bedales School. She also coaches on various music courses and is a deputy teacher for Junior Trinity.
Courtesy of www.suerothstein.co.uk