Forest ~ River ~ Ocean : John Kenny: Carnyx, Trombone, Alphorn
Performed by Yaggdrasil String Quartet, The Gathering, John Whiting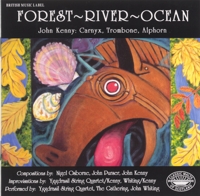 As soon as I began to work with John Creed's magnificent reconstruction of the Deskford Carnyx, all of us involved with the project realised that we were dealing with something quite extraordinary; a legendary 2,000 year old War Horn which had come to life, not only as a show-case replica, but also as a beautiful instrument with a unique voice, to speak afresh in the modern world.
But more than this, the Carnyx is a key which can unlock possibilities far beyond its own potential, either as a musical instrument or an archaeological artifact - it is a potent symbol of regeneration and reconciliation, representing a common cultural heritage, which can touch and stimulate people of widely divergent race and creed.
The reconstruction of the Carnyx and the projects developed around it so far have brought together archeologist, silversmith, musicologists, composers, and performers. Along with the premiere and tour of Forest ~ River ~ Ocean as part of the Highland Festival in May 1996, a highly successful education and development project, directed by Nigel Osborne, brought children from many isolated communities into contact with the Carnyx. This stimulated them to compose their own music through a process of discovery of their own local environment and history, revealed through archaeology.
Carnyx & Co is committed to continuing and extending this process, both by enabling the commission and performance of challenging new work, and by setting up creative discovery projects within communities that are divided by political, ethnic, or religious intolerance. We intend to commission the manufacture of more instruments, and to pass on the techniques of playing. In the process, more will be discovered about the rich and varied cultures in which the Carnyx once thrived - and through this, in our own small way perhaps we can make a contribution to the richness of our own culture in the 21st Century. John Kenny
Buy this album now CD: £12.00 + p&p