The Marshall Plan
The Poetry of Grantly Marshall set to music by John Kenny & Scot Free.
Narrators - Grantly Marshall & John Kenny
The poems, which are printed in the CD book have not been reproduced on this web site.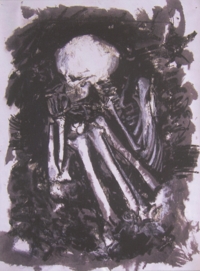 I had known Grantly Marshall for many years as a dynamic and imaginative theatre producer, before I discovered his 'alter ego' as a poet. Until 1099, I would have described him as an adventurous entrepreneur with a passion for theatre, repeatedly taking hair raising risks to market Contemporary Music Theatre at an international level. His enduring success, in this notoriously cut-throat world, betokens a gambler's iron nerve and a shrewd impresario - so when I received a volume of Grantly's poems, just in time for Christmas 1999, I was genuinely surprised.
Here was an entirely new and unsuspected side of a friend that I thought I knew reasonably well - and yet it suddenly explained so much that I had observed, yet not fathomed, in particular his attitudes to creativity, and to his own native America. I have received a new volume In my Christmas post every year since, and it didn't take long for Grantly and I to start talking about the relationship of Music and Poetry. This album is the fruit of those discussions.
It is immediately obvious that this poetry is not written to please the 'contemporary poetry establishment', whatever or wherever that may be. They are frequently In rhyming couplets, often extremely personal -even painful so - and yet they have an honest, open quality that gives them a feeling of universality.
More than anything, these poems felt to me like a contemporary manifestation of the great American folk ballad; there are many examples of 'songs without words', but these fell like words waiting to be songs. In fact, of the nineteen poems presented here, only three are actually sung - the rest are spoken and set into a musical framework.
Very few poets are natural performers, and many are not the best readers of their own work, but Grantly is definitely an exception. His own voice and delivery are intrinsically musical, and I wanted his voice to become a central part of the musical texture of the album, without changing the natural pace and cadence of his delivery.
My own narration of seversi poems, and those that are sung by harpist Mary MacMaster and I, are in deliberate contrast to Grantly's own strongly metered delivery, since ours are 'interpreted' readings driven by musical ideas. There is a parallel in the music, which is almost equally divided between composition and improvisation
I wanted to achieve a balance between my own interpretations of these poems as a composer, and the instinctive response of highly skilled improvising musicians, working with the poet speaking his own words in real time. The result is a fascinating comparison between these two methods of working, which can be most clearly appreciated by comparing tracks 2 and 13. Both are settings of the poem Death. The first is fully composed, the second is free improvisation with no prior discussion. There is a wonderful freedom in this process, but above all, as musicians we tried to be constantly aware of the vital importance of the words, not only as meanings, but as pure sound!
I am enormously grateful to my colleagues in Scot Free for their tireless good humour and endless creativity, without which this project would have been impossible. This album was recorded by Jim Brook at Drumblair Lodge Studio in Aberdeenshire from the 26th to the 30th of July 2006. John Kenny
GRANTLY MARSHALL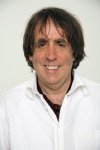 Grantly Marshall was born in Franklin Square, Ohio on the 22nd of May 1949. Before his birth, his mother had read a book by a baby doctor titled Childbirth Without Fear, supporting the birth of a child without a doctor's assistance. After performing this important act, alone in a farm house, his mother named him Grantly, the first name of the book's author. Thus the corner stones were set for a life of swimming upstream, trying to do things out of the ordinary, in a non-conventional way.
His education consisted of schooling in Leetonia, Ohio, followed by five turbulent years at Kent State University, a conservative and relatively unknown teacher's college in Ohio. But the Vietnam War changed its reputation forever, firmly writing on stone its position in the history books. For it was here on May 4th, 1970 that four students, caught up in an anti-war demonstration, were murdered by National Guardsmen occupying the campus. Mr. Marshall was a firsthand witness of this tragedy and his life would never be the same again.
He took a summer trip to Europe in 1971. then a year later left for Germany with a one-way plane ticket and just $220. He worked for while at the German Post Office, began again to study at Ludwigs­Maxmillian-Universitat, Munchen and in 1978 formed the American Drama Group, a theatre organisation for which he still continues to produce. It performs around 1000 times yearly in forty countries worldwide.
But poetry was always there to. He wrote his first poem as a third grader, then often memorised and recited poems of famous writers. But it was in Germany, that he decided to sharpen his poetic skills, On one or two occasions he wrote for a number of months, and then put the pen down for a while. The poem 'Death' came from one of these early ventures. Then In 1999, at the rIpe young age of 50, he began publIshing 21 Poems for the 21st Century, a practIce that has continued on to the present. He is currently working on Volume VIII.
SCOT FREE
The Improvising Composers' Ensemble. Scot Free, was founded by John Kenny, and it made its debut performance in Edinburgh's Queen Hall in October 1998, featuring the French/American saxophonist and painter, Etienne Rolin. The group has since staged projects in the UK and France, notably recording the soundtrack of John Kenny's music for the American Drama Group of Europe's production Moon Palace, which has toured worldwide annually since its 2002 premiere in Germany.
The members of Scot Free for The Marshall Plan are:
MM: Mary MacMaster - voice, electro & knee harps by Camac, clarsach by Jack Morgan.
CR: Caroline Ross - voice
JK: John Kenny. voice, tenor & bass trombones, didgeridoo, recorders, occannas, percussion.
GH: Gerry Hunt - bass guitar, soprano saxophone, flute, fiddle, acoustic guItar.
CL: Chick Lyail - piano & synthesiser.
PV: Peter Vilk - drums & percussion.
With special guest, GM Grantly Marshall - narrator
JOHN KENNY
John Kenny is one of the few trombonists who consistently performs internationally as a concert soloist, having given recitals and broadcasts in over fifty nations since 1979. Although primarily associated with the interpretation of Contemporary Music, he also performs and teaches Early Music, and is extremely active as an improviser and composer. His collaboration with playwright Paul Stebbing & the TNT Theatre Company began in 1980, and with the American Drama Group of Europe from 1992.
In 1993 he became the first person for 2000 years to play the Carnyx - a giant bronze Celtic War Horn, and now regularly lectures and performs on it world wide. He Is professor at both the Guildhall School of Music and Drama in London and the Royal Scottish Academy of Music and Drama, in Glasgow and lives In Edinburgh, with his wife and two sons.
---
The Recording at DRUMBLAIR LODGE STUDIO
The sessions provided an Interesting challenge, especially with the improvised pieces, where Grantly Marshall recited his works along with the five musicians. I arranged to have GM at the opposite end of the live room, remote from the musicians, to create some separation, but also to close mike the trombone (Neumann TLM103) and percussion (Rhode's NT1 and Audio Technica AT4033a mica). The keyboards, bass & electric harp were Did, but also sent back Into the live room, via a monitor, so that the players did not have to wear cans. More importantly, this added a 'live room' element to the quality of the DId sound. Often an old Eventide Harmoniser was used with the Dt'd tracks.
Seated in a chair, GM was miked with a Neumann 1987 with its feed put through a Manley Langevin Dual Vocal Combo, which has a very subtle, transparent limiter and some nice Eq. This added warmth and body to his delivery as well as controlling any peaks, when he became excited!
For the most part, the remaining songs were recorded by laying down some initial tracks with a least two or three of the musicians taking part, before adding extra tracks. The drums were miked up with Shure SM57 (snare), AKG D112 (bass drum) with the overheads using Rhode's NT1s and Audio Technical AT3525 via a Drawmer MX3O compressor. The snare and bass feeds were put through a Manley Stereo Variable MU Limiter/Compressor.
The miked and DI'd feeds went through a 32 channel 8 bus Mackie analogue console to bring together everything into one sonic soundacape. This console acts as a slave for a Yamaha 01X digital desk, which has automation for mixing and provides a hands-on controller for the digital software in Cubase SX3 used for editing. Overall it felt, at times, as though I was piecing together the sonic equivalent of a film. This process would be impossible using real tape! Jim Brook