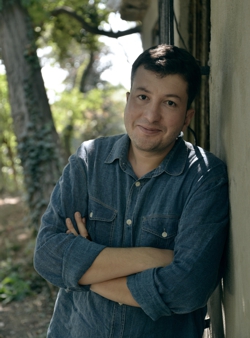 Bora Uymaz distinguishes himself as a musician with a high taste and talent. A multifaceted artist, he has devoted himself to the cause of Turkish music, to convey, perpetuate and develop this tradition. Uymaz is active as a singer, composer, performer and teacher and in all these areas he has shaped a highly personal identity, bridging the tradition with the present. He is perceived as a thorough artist and comes across with the spirit of a troubadour who is leaving a very special mark on today's music.
A musician from the Aegean town of Izmir, Uymaz is appreciated for his strong and unique voice which he puts more at the service of meanings than words. His delibarete and personal singing is regarded as a touchstone in today's traditional Turkish music.
While Bora Uymaz owes his fame to the sophistication of his vocal expression, he reflects the same depth of expression in his compositions which are somewhat like the musical tableaux of his life. In this regard, Uymaz has won several awards in composition contests with his opus which counts nearly 600 works in various forms and musical styles.
Bora, upon meeting harpists Sirin Pancaroglu and Meriç Dönük in 2013 has composed over 40 works in a variety of makams (Turkish system of organizing pitches, scales and melodies) for pedal and lever harp in various forms of traditional Turkish music such as pesrev (prelude or overture), saz semai (suite), longa (a fast and 2/4), waltz, mandira, fantasy, tango as well as pieces in free form. His "The Sons of Hypnos" was chosen as a finalist in the USA International Harp Competition Composition Contest and was performed during the Composers Forum at the 2016 competition in Bloomington, USA. Pancaroglu and Dönük have extensively performed works from this repertoire in Turkey and abroad.
Uymaz is aso credited for creating a new Turkish music form titled "Natik-i Elhan" which he named himself. He has also devised a makam, which, his teacher Cinuçen Tanrikorur named "Suzinak-Asiran", in which he wrote an extended composition.
Bora has appeared as a soloist at concerts in Australia, UK, USA, Japan, China, Korea, Singapore, Malaysia, Germany, Holland, Finland, Belgium, Macedonia, Kosovo, Lebanon, Tunisia, Cyprus and Netherlands. Recently as a member of the Kudsi Erguner Ensemble, he has toured in France, Italy, Poland, Lebanon, Holland, Italy, Belgium, Germany, Omman, Norway and Brazil and released a recording titled "Pervane". He is credited with four recordings of his own with "Yunusça", "Mim sad ra", "Bir", "Cafe Tango" and "Eternal Love".
He is the musical director of "Simdi Ensemble which he founded together with harpist Sirin Pancaroglu, in which they perform the poems of the great Sufi masters of Anatolia which they set to music. Bora was in residence at Indiana University Jacobs School of Music in 2016, as well as Central Conservatory of Music in Beijing and at the International Edinburgh Harp Festival, performing and giving lectures on traditional Turkish music and makam theory.
Bora Uymaz studied at the Ege University Turkish Music Conservatory between 1994-1999, and graduated ranking first in his class. He has benefited from the teachings of notable musicians such as Cinuçen Tanrikorur, Akin Özkan, Vefik Ataç and Reha Sagbas. Bora is a member of the Izmir State Classical Turkish Music Choir and completed a master's degree at the 9 Eylul University where he is currently pursuing a doctoral degree in religious music.
June 2017