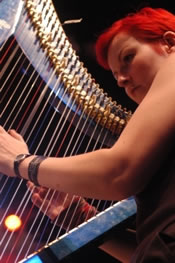 Within a few minutes of hearing her, the energy and the timing, the depth and the colour of her music will touch you. One of the leading Scottish Harp players in the world today (nominated Instrumentalist of the Year 2004 at the STMA) Corrina has toured through Europe, the Far East and Canada taking the Small Harp to a new level of excellence, combining traditional style music with contemporary attitude. She is also blessed with a stunningly individual voice, which resonates with years of soaking up Scotland's musical tradition, while exploring contemporary elements and jazz. She is in demand as a player, composer, arranger and teacher, and her appeal grows larger as more and more people hear and meet her. She has an astonishing ability to create and collaborate with others and this has led her to recording over 30 albums in the last twelve years. She is also now sponsored by Camac Harps and plays an Aziliz and an electroharp.
Corrina Hewat is co-founder & co-musical director of the Unusual Suspects, the extravagantic folk big band dubbed The Scottish National Folk Orchestra "one of the most exciting bands I've ever seen" quote Mike Harding Radio 3. She is also a skilled and innovative composer and arranger, having written four large scale commissions, while also musically directing shows such as Celtic Connections 'Songs of Conscience' 2007, 'Scottish Men' 2006 and the TMSA Young Trad Tour 2006 & 2005. Corrina is a founder member of distinct bands such as Bachue, Chantan and Shine and has been involved in awarding winning and pioneering shows such as My Ain Countrie and Scottish Women.

Recent projects include a duo with Kathryn Tickell, exploring the Scottish and Northumbrian Borders traditions and a vocal trio with Karine Polwart & Annie Grace. "The world needs to hear this!" Corrina is also developing her own one woman show for tour in 2007, incorporating a range of music, songs and stories from her background growing up in the Scottish Highlands through to her surroundings now in the Scottish Borders. She is a stunningly versatile singer "She blends a jazz singer's flexibility, a blues singer's economy and a folk singer's heart into a style that's both natural and her very own" with an incredible range and velvety tone "Ever wondered what Billie Holiday would have sounded like if she had been born Scots?" while also possessing a creative and powerful technique on the harp, both on the Scottish small harp and electric harp. "A range of expression and depth of technical assurance… dazzlingly nimble finger work and liberal deployment of the instrument's big bass end".
Corrina's teachers in college were Sanchia Pielou and Maire Ni Chathasaigh whose tuition and style she still refers to today. She is a guest tutor on the Traditional Music Degree courses at Newcastle University and the RSAMD, as well as teaching workshops and courses on harmony singing, arranging and vocal techniques. She also has six 30 minute videos available for download on for post beginner/intermediate players. www.ayepod.net