Sheet Music for Harp
New Harp Music


Corrina Hewat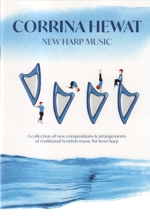 A stunning new collection of 22 original compositions and arrangements of traditional Scottish music for lever harp.
Her second collection of harp music, this book contains compositions and arrangements selected from Corrina's back catalogue of works for solo harp, from 1998 to 2019. Included are arrangements of tunes taken from some of Corrina's large-scale works, such as 'Making The Connection' and 'Song of the Oak and the Ivy'.
As an educator and solo performer, her music has influenced countless harpers around the world and this collection holds something for students and performers alike; Corrina is known for creating music that will challenge the most advanced performer, yet her gift for composing memorable tunes where the beauty lies in simplicity will inspire learners even in the earliest stages of development.
Buy this music now £18.00 +p&p