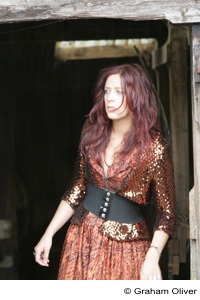 Kathryn Tickell's roots are in the North Tyne Valley of Northumberland, where many of her relatives still play traditional music. Her father Mike Tickell is an acclaimed performer of the songs of this area. Kathryn took up the Northumbrian smallpipes at the age of nine and by the age of thirteen had won all the traditional open smallpipes competitions and was rapidly making a name for herself as a fiddle player.
At the age of sixteen Kathryn released her first album, "On Kielderside". Two years later, in 1986, she turned professional, immediately entering a busy touring schedule throughout Britain & abroad, as well as recording her second album, "Borderlands" which was the first recording to include her own compositions.
In the summer of 1987 she recorded a sixty minute TV documentary, "The Long Tradition" for Channel 4. This chronicled her musical development and background, was broadcast in December 1987, and released on video in 1989.
Kathryn's third album, "Common Ground" was chosen as one of "Q" magazines 'Records of the Year'. Kathryn was also named as Top Instrumentalist in the Folk Roots Poll of 1988.
In 1990 the Kathryn Tickell Band was formed. The next few years saw Kathryn putting all her energy into the band, recording the albums, "The Kathryn Tickell Band" and, "Signs" and touring extensively throughout the world. However she still found time to compose music for two of Newcastle's Live Theatre Company productions, to present a series of programmes for Radio 2, record with the Penguin Cafe Orchestra and with The Chieftains. During this time Kathryn also contributed to Sting albums, as well as joining him to play live at Newcastle City Hall & also on TV.
To continue this story please go to www.kathryntickell.com