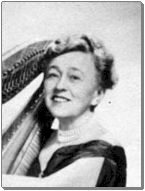 Mildred Dilling
Mildred Dilling, a concert harpist who performed for five Presidents, taught Harpo Marx and owned the world's largest private collection of harps, died in her Manhattan home last Thursday. She was 88 years old.
Miss Dilling performed throughout North and South America, the Orient and Europe. At the peak of her career, she gave 85 concerts and traveled 30,000 miles a year. In her early 80's, Miss Dilling was still performing 10 concerts a year. She also conducted harp workshops at colleges and universities, giving master classes at the University of California, Los Angeles.
A founder of the American Harp Society, Miss Dilling kept about 65 harps in her apartment and had others stored around the world. Sometimes she would bring 25 along on a concert tour.
Other pupils of Miss Dilling included Deanna Durbin, Sir Laurence Olivier and Bob Hope. She performed for the first time at the White House during the Administration of Warren G. Harding and gave concerts there on six more occasions.
Her husband, Clarence W. Parker, died in 1948.
reprinted from New York Times, Obituaries, 3 January 1983