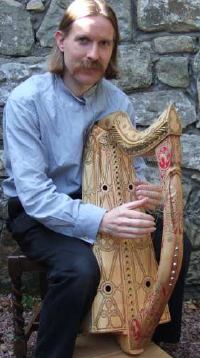 Simon Chadwick lives in St Andrews on the east coast of Scotland. He has been working on the music and traditions of the early Gaelic harp (also known as early clàrsach or early Irish harp) since 1998.
Simon learned music as a child, taking trombone and piano lessons at school. His harp studies were from the outset devoted to the historical Gaelic traditions, leading him to follow Ann Heymann in making use of the distinguishing features of early Gaelic performance practice, most notably the fingernail techniques, left shoulder playing orientation and the use of unison comhluighe stringing.
Simon studied both physics and archaeology at university and applies this training to the early Gaelic harp, hence his expertise about the physical instrument, and his interest in its design, ergonomics and stringing. He was key to the HHSI commissioning its series of student harps from David Kortier, and continues to work on the specifications and design of each new model. He designs the string regime for each one, based on years of experiments with brass, silver and gold strings. Simon is also regularly consulted by other early Irish harp makers from various countries seeking advice and technical information on both modern reconstructions and the extant historical instruments.
As well as the extensive information website, www.earlygaelicharp.info, Simon has published a tutor book outlining the historical tradition, Progressive Lessons for Early Gaelic Harp, and an article in the scholarly journal Early Music; he has also released a CD of historical Scottish repertory, Clàrsach na Bànrighe - coming soon to Creighton's Collection!.
Simon is Hon. Secretary of the Historical Harp Society of Ireland and Assistant Director of its annual summer school, Scoil na gCláirseach.