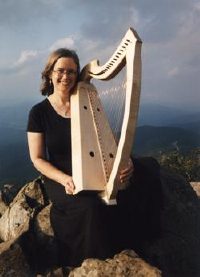 Cynthia Cathcart is one of the world's experts on the Clarsach. Performing and teaching for various audiences, she is a leader in the new wave of interest in the wire-strung harp. She represents Ardival harps of Strathpeffer, Scotland and is their North American Artist in Residence. Professional harper, two time U.S. National Scottish Harp Master Champion, 2002 Oberlin Ohio master Harp Champion, 1998 North American Senior Amateur Scottish Harp Champion, three time winner of the Clan Lamont Trophy and holder of the Jan Pennington-Grey Award, Cynthia Cathcart is a leading authority on the ancient Wire Strung Harp, or Clarsach, of Ireland and the Highlands and Islands of Scotland. She also holds a Bachelor of Arts in Music in Piano Performance from Hood College, where she studied under the world-renowned pianist Noel Lester.
Based near Washington, DC, Cynthia began her harp career only a few short years ago, and quite by accident, when she inherited a wire-strung harp. After dusting off years of neglect that had gathered on the harp, she began to teach herself how to play. Or, more to the truth, the harp began to teach Cynthia with that mystical voice an instrument employs when it finds a musician destined to play it. The fit was natural, as were Cynthia's abilities to research and rediscover the repertoire and the authentic technique of playing the wire strung harp with the fingernails. Her rapid climb to being counted among the foremost players of the Clarsach is but an extension on her firm foundation as a classically trained pianist and organist.
A reviewer from a recent concert wrote, "When Cynthia began her portion of the program I had the impression of fine china. Very satisfying sound! I really liked the way her pieces flowed from one to the other, and the stories she told, partly in words, partly with her instruments."