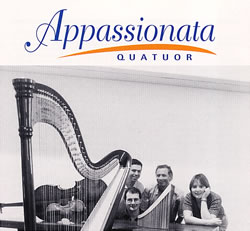 Quatuor Appassionata chamber music ensemble was founded in Geneva in 1990 by the violoncellist Marc-Andre Thiebaud. The exceptional uniting of such brilliant and varied instruments with such virtuosity and melody, favours a new approach to music. With the help of subtle sound alliance, the Quatuor Appassionata (Q.A.) subjugates their audience in a dreamy atmosphere of life and peace.
The Q.A. musicians are academy laureates and have become individually specialised with the greatest Masters of their respective instruments. They have also participated with success in international music competition and training courses. They perform frequently in concerts and participate in Radio and Television programs. They regularly record in Solo or with other musicians, and interpret original works dedicated to them. In line with their training and their name, the Q.A. repertoire wishes to be lively and varied, it stretches without limit from ancient to modern-day music.
The works performed here are not, of course, the originals. They have all been arranged by the musicians of Q.A. who have adapted them at best, to the tessitura and both technical and expressive possibilities of their instruments, with a constant will to respect the original work.
The parts of the program, devoted to Baroque music have hardly endured any modification, except for the replacement of a transverse flute (Vivaldi, Telemann), or a fipple flute (Quantz), by a Pan-pipe, and that of a harpsichord by a harp. During the periods of ancient music (Renaissance and Baroque), it was usual for a composer not to compose specifically for an instrument, be it string or wind. Consequently, the arrangements proposed by Q.A. for the Baroque period correspond perfectly with the customs of those times, despite the fact that the Pan-pipe was still little known in western Europe. With regard to the classic and romantic periods, the destination of the musical compositions was certainly more precise and strict; nevertheless, the arrangements of Q.A. are always accomplished with the objective of never betraying the composer.
Programme notes
1. Antonio VIVALDI (1678-1741)
While still alive, Vivaldi acquired international renown, and aroused great admiration, particularly due to the profusion and richness of his creations. He innovated constantly elaborating new combinations of rhythm and harmony and new sound alliances, for example, by joining as solo to the orchestra, one after the other, practically all the instruments known at those times. He was one of the first to reject the famous "concerto grosso" of which Corelli had been the uncontested Master: concerto in four movements (slow - quick - slow - quick), in favour of a new concerto, generally shorter, comprised of three movements (quick - slow - quick), of which the present concerto in Sol minor is a perfect illustration.
2. Felix MENDELSSOHN (1809-1847)
A man gifted with great intelligence, a prodigious memory and deep sensitivity, with the ability to love life, he lived a happy and balanced existence. He was a brilliant and talented composer, able to write with disconcerting ease. Throughout his whole life Mendelssohn encountered only continuous success, as a conductor or composer. A hard-working man, he was very self-critical and constantly re-arranged his manuscripts to raise them to higher levels. Great admirer of JS Bach, he was able to ally the rigour of the latter with great fantasy and a fully romantic spirit. "Abendlied" and "Herbstlied" are melody arrangements written for voice and piano.
3. Johann Joachim QUANTZ (1697-1773)
Composer and flutist to the court of the King of Prussia Frederic II, he wrote for the latter some 300 concertos and 200 scores of chamber music, including the present Sonata. This piece was originally written for a fipple flute, transverse flute and continue (cello and harpsichord). Quantz chose for the score the very clear tone of Do majeur, which gives it a lively and brilliant character.
4. Gaetano PUGNANI (1731-1798)/ Fritz KREISLER (1875-1962)
Famous Italian violinist and composer of the 18th Century, Pugnani, by means of his powerful play, rapidly conquered the whole of Europe, which he visited with. amongst others, his favourite and no less famous pupil, G.B. Viotti. He can be considered as one of the promoters of modern violin technique. His many instrumental compositions are furthermore essentially linked to his instrument..
Kreisler, born in Vienna, nearly a century and a half later and in the full romantic period, was firstly a prodigious violinist who, at the age of twelve, made his first concert tour of America. Owing to his exceptionally sure technique and his warm and sensual sonority, he became a great violin Master. He composed many pieces for his instrument and, full of humour. committed himself with pleasure to pasticios, which he presented quite naturally as original pieces and which bestowed him with vivid criticism when this practice was unveiled. The piece chosen by the Q.A. is in fact one of those pasticios, taken from Pugnani by Kreisler. which today implies the association of these two names in this piece of violin bravery where passion has nothing to envy from virtuosity!
5. Hector BERLIOZ (1803-1869)
The music of Berlioz, by its bold harmony and melody is largely innovator of the first half of the 19th century, and without doubt prefigures the 20tli century. It is always full of ardor and passion. The arrangement of the "Air of the Young Ismaelites" taken from the Oratorio " The Childhood of Christ " op. 25. existed already, and was composed for Trio with harp. It just needed to be adapted to the Pan-pipe with the addition of a solemn voice for the cello, moreover fully repeated in the general harmony of the work, and which warmly accentuates various sound levels with the additional colour brought by the cello.
6. Carl STAMITZ (1745-1801)
This german composer of Bohemian origin was a virtuoso violin and viola player. His reputation was made by his concert composition: symphonies for orchestra and concert instruments, or pieces for different formations of chamber music. The two first movements of the Sonata op.14 no. 5 in Fa major represent a good example of this type of music. Indeed, flute, violin, cello and harp dialogue together and share in turn the melody parts.
7. Felix MENDELSSOHN (1809-1847)
(cf. above, 2) "Abschiedslied" is drawn from a melody written for voice and piano. The Choral op.17 is an adaptation of a piece originally composed for piano only.
8. Georg Philipp TELEMANN (1681-1767)
Telemann, with about 6000 written musical works of all kinds and styles, represents perhaps the most famous composer of his time in Germany, and even the most fecund in all the history of music. Telemann was so good at adapting his music to the public of diverse regions, that he was well-known and admired in all countries of Europe from France to Russia. However his compositions with little inclination to an original personal style, were rapidly forgotten up until the 20th century, when he was at last rehabilitated and considered as a musician of first order.
9. Gaetano DONIZETTI (1797-1848)
In many respects, Donizetti can be considered as the founder of a new italian romanticism. His "Exilir d' Amour" represents on of his first successes in Northern Italy, especially in Milan. This opera contains diverse and popular airs, full of typically italian warmth and passion.The Quatuor Appassionata has reunited and arranged some of the most beautiful and famous melodies of this work while exposing them in a varied and original fashion. The four instruments converse and respond with passion on these enchanting airs.