Benoit Wery , Harp and composer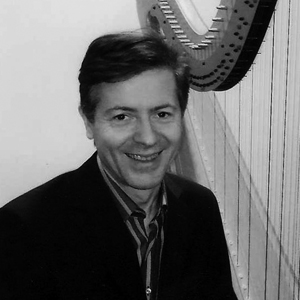 Gold medalist of the National Music School of Lille and then unanimously named as the winner of the first prize at the National Music School in Paris, Benoit gave his first recital at the age of 11.
Thanks to the advice and help of Lili Laskine , Benôit Wery made his true debuts as a concert performer in Helsinki and became a prizewinner at the Yehudi Menuhin Foundation. After this he was a prizewinner at the G. Cziffra Foundation and gave a performance with this great pianist (who played in the first half) in the Auditorium F. Liszt of Senlis, he also played a series of concerts in Hungary at the Budapest Spring festival.
After this he was invited to play in at the Toulouse Festival, Nancy, Lille, Aix en Provence and in the World Harp Congress.
In Paris he performed at the Salle Gaveau, in the Chatelet Theater, and at La Salle Cortot.
Internationally, ten or more European countries have invited him to play, also Turkey, Brazil, Egypt, and Hong Kong. In Japan he did a few tours, one of which included the Harp festival of Tokyo, in the presence of the empress Michiko who praised his performance in the Japanese press.
Benôit Wery received a "5 diapason" for his recording of his CD dedicated to French music.
He twice recorded flute and harp with Maxence Larrieu, with whom he has given Mozart's double concerto K299 at the Salle Gaveau accompanied by the Pasdeloup orchestra.
He has also recorded Reinecke's harp Concerto with the Guard of the Republic Symphony Orchestra, and Mozart's concerto for Flute and Harp with Royal Orchestra of Wallonie, (conductor Phillippe Bender), also a CD of French music for Violin and Harp and a CD of lyrical texts read and played with the actress M-C Barrault.
Quite a few works are dedicated to him ( J-M Damase, J Casterède, H. de Luze…), he has composed collections for the use of young harpists, virtuosity studies, concert works ( sonatas, suites etc) and one concerto for the Celtic harp.
The St Petersburg International Competition ordered a special piece for Harp solo, and the Shanghai State Orchestra a harp concerto.
Recently Benôit has played a few times at L'Eglise de la Madeleine in Paris, various concertos with The French Chamber Orchestra and the National Police Orchestra, also in St Petersburg, Russia, and in Japan.
Text from 2014 Flute Festival web site www.flutefestival.ch