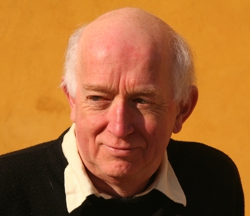 The works of Michael Stimpson have been performed and commissioned by some of the UK's most distinguished artists including the English Chamber Orchestra, London Sinfonietta, Allegri and Maggini String Quartets, Bristol Bach Choir, Roderick Williams, Paul Agnew, David Campbell, Philippe Graffin, and Sioned Williams. The capital's foremost venues have hosted his works, and international recognition has prompted performances in Europe, the USA, and Australia.
His works are varied in their subject matter, the stimulus often from contemporary events, favourite authors, and poets. String Quartet No. 1 (Robben Island) reflected the breakdown of apartheid; The Stars Have Withdrawn Their Shining (harp), the life of John Ruskin; The Angry Garden (choir and orchestra) explored the issue of global warming; and a A Walk Into War (tenor and piano quintet) was based on the writing of Laurie Lee.
His major work to mark the 60th anniversary of the end of World War 2, Clouds of War (choir and orchestra) was presented at Cadogan Hall in the presence of HRH Prince Michael of Kent. This was followed by a four-stage work, Age of Wonders, to commemorate the 200th anniversary of the birth of Charles Darwin. Beginning as a piece for violin and piano, it evolved through string quartet and string orchestra to a work for full orchestra, commissioned by the Darwin Symphony Orchestra in Australia. Michael went on to write the opera, Jesse Owens, a work in four Acts for soli, chorus and full orchestra based on the life of the iconic US athlete. Both the Incidental Music from the opera and Age of Wonders have been recorded by the Philharmonia Orchestra for release on CD. Two others CDs, Journeyman (Allegri Quartet) and Dylan and The Drowning of Capel Celyn (baritone and harp) are already available.
Michael lives in the Chalke Valley near Salisbury.