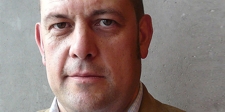 From Pitlochry, in Perthshire, Gary West learned his piping with the much acclaimed Vale of Atholl pipe band with whom he played for 18 years winning both the Scottish and European Championships.
In the late 1980s, he began to play a prominent role in the folk music scene, joining Ceolbeg in 1988, and becoming a founder member of the Scottish 'supergroup' Clan Alba in 1991, playing alongside such luminaries as Dick Gaughan and Brian McNeil. He is in regular demand as a recording session player, and has performed on over 20 CDs.
His first solo album, The Islay Ball, was released in 2001 on the Greentrax label, and has been very well received by the critics:
Gary is Head of Celtic and Scottish Studies at the University of Edinburgh. His teaching and research interests include issues of local and national identity; the history of Scottish music, revivals and oral history. Gary also presents BBC Radio Scotland's weekly specialist piping programme, Pipeline.