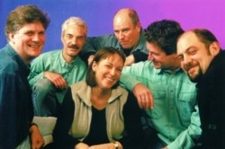 Ceol Beag is a Gaelic phrase meaning literally 'Small Music'. It refers to the jigs, reels, and strathspeys of traditional Scottish pipe music and contrasts with Ceol Mór, the `Big Music' of the pibroch or classical Highland bagpipe repertoire.
Ceolbeg were around for 25 years - Formed in the seventies, the aim of the band was always to concentrate on innovative settings of traditional Scottish music while preserving the essence of the original tunes and songs. The earliest band line-up may have been Peter Boond, Barbara Dymock, Dave Carmichael, Dave Whyte and Arthur Gibb.
The members of the last Ceolbeg line-up were:- Peter Boond, Colin Matheson, Rod Paterson, Wendy Stewart, Mike Travis, Gary West. But, Over the years, many other musicians moved in and out of the band. Here are most of the rest: Duncan Black, Dave Carmichael, Aileen Carr, Gordon Duncan, Kenny Hadden, Katie Harrigan, Mike Katz, Ian MacQueen, Stuart Morrison, Davy Steele, Doug Stronach, Andy Thorburn, Jim Walker, Dave Whyte.
Sadly, after the departure of Rod Paterson and Wendy Stewart from the line-up in September, 2001, an anticipated personnel change did not materialise. The four remaining band members decided to split and their "Farewell Fling" took place at the Queen's Hall, Edinburgh on 11th August, 2002.
Text courtesy of www.footstompin.com