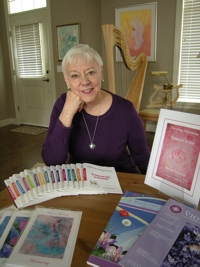 From childhood, Sharone Stevenson has always had a passion for dance, music, fairies, angels, art, and creative writing. She was born in London, England and was professionally trained in classical ballet and piano. After immigrating to the Vancouver area of British Columbia, Canada, she extended the artistic abilities and love for teaching, to opening several classical ballet schools in the area.
She has always had a great love for the pedal harp and is now playing and composing original harp music. Using her experience in computer graphic design and writing, she writes her own music into a notation programme and self-publishes it. Her first selection called "Healing Harmony – Essence of Joy" is available at The Harp Connection in Salem, Massachusetts, USA, and at Creighton's Collection in Cardiff, Wales, UK.
This selection has been reviewed in Folk Harp Journal in Spring 2012, and followed in the next issue by a copy of one of her pieces from the selection called "Fairy Footprints." Sharone's collection can be seen on You Tube, and some of her art is featured on her Facebook Page; just type in her name.
She has also written, designed, and published several books; one of them being a children's book series for children age 6 and up, called - "Fairy Blue Light –Use Your Imagination eBooks," and are available for the Kindle eBook reader on Amazon.com. You will find her website at: www.fairybluelight.com
Sharone, along with her husband, now reside in the beautiful community of Chilliwack, BC. They left the Lower Mainland, Vancouver, BC in search of the mountains and a quieter lifestyle, in order to continue writing and creating music and art.
May her passion for healing, harmony and joy, touch you too.