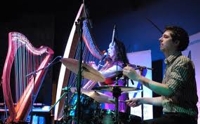 Since their successful completion of BMus (Hons) degree courses at the Royal Northern College of Music in Manchester, Màiri Macleod and Ross Garrod have taken their electrifying harp and percussion duo to a variety of stages at the Edinburgh Festival Fringe, Manchester, London & the Edinburgh International Harp Festival, but are now ready to expand their horizons. Edinburgh-born Màiri and London-based Ross have named themselves "Glèusta" (pronounced Glay'sta) which in Scottish Gaelic appropriately means "in tune".
Since meeting at the RNCM in 2008, these two have successfully fused their backgrounds in folk and jazz to produce an exhilarating experience. Playing an exciting mix of classical, contemporary, folk and jazz, featuring original compositions and innovative arrangements. Màiri is determined to keep Gaelic living within the duo with her influences of folk and Scottish traditional music but Ross' flavour adds a new dimension to the music which keeps Màiri on her toes! Ross recalls: "Màiri once told me how difficult it was for her to change key in between pieces, especially when having to re-tune the harp, so I decided I'd give her a challenge to play a piece I'd written with several lever changes while playing at the same time. Màiri response to this challenge was taken on with full determination and now I can throw anything at her, within reason of course!" The musical 'banter' that goes on between these two is a delight to see, especially when their passion for music and their light-hearted attitudes produce tones and emotions one wouldn't expect from this combination of instruments.
With her Scottish Gaelic background, Màiri Macleod uses her bilingual skills to good effect in her musical performances. Her harp-playing ability combines clarsach (Celtic harp), electroharp and pedal harp, with effective vocal contributions in Gaelic. Màiri's debut solo album 'Ceòl is Òrain' (Music & Song) was released in August 2011 and includes 12 tracks of original & traditional Scottish music and unaccompanied Gaelic songs. Prior to attending the RNCM her musical successes included numerous singing and instrumental competitions at the Royal National Mod. She has featured in various recordings — The Blue Nova Sisters and on The City of Edinburgh Music School 'Mackay's Memoirs' (Martyn Bennett's composition for the 1999 Opening of the Scottish Parliament). She has also played Principal harp with the BBC Philarmonic Orchestra. Ross completed his undergraduate studies in percussion and drum kit at the Royal Northern College of Music in 2009 and received a scholarship to study on the Master of Arts course at the Royal Academy of Music, from which he graduated with distinction. Ross has performed as principal percussion with the Royal Philharmonic Orchestra, been on trial for principal percussion with the Ulster Symphony Orchestra and has performed with the London Mozart Players, Royal Philharmonic Concert Orchestra, Halle Orchestra and BBC Philharmonic Orchestra.
Other notable highlights have included performing on Pyramid stage at Glastonbury 2007, for Elton John and guests at his white tie and tiara ball 2010, at Anna Valentine's Spring/Summer fashion show 2010, at the BBC Proms 2005 and recording for three films and a Tyrrells Crisp commercial.
(January 2012)