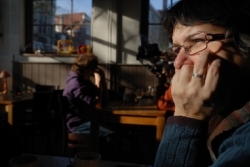 Elisabeth Millenaar (Els) graduated from the Brabants Conservatorium for Trumpet (BMus, 1981).
She taught brass instruments for over twenty years and she is a member of the Zeeland Symphony Orchestra and since 2000, after moving to Zeeland, she holds a position as Music Librarian.
She has a longtime relationship with the small harp. She took lessons from various harp teachers whenever she found time, and visited the Edinburgh International Harp Festival several times. These visits, and especially meeting so many interesting people there, inspired her to do what she had always longed to do: compose music for the small harp. Elisabeth currently takes lessons with Hannelore DeVaere on the historical arpa de dos ordenes, the cross strung harp from Renaissance Spain.
Elisabeth loves photography, and envisions her music to be published with accompanying images and poetry. The photographs in her first publication Netty's Garden are by Elisabeth's brother Rob, a keen and talented photographer. The compositions in the book stem from her imagination and the heart; it is a sketch of their mother's childhood.
Elisabeth also writes for brass instruments.