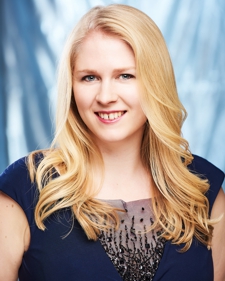 Welsh harpist Gwenllian Llyr is gaining international recognition for her charismatic and engaging performances. She was twice a prize-winner at the USA International Harp Competition in Bloomington where she was highly praised for her musicianship and her ability to connect with audiences. Gwenllian has also won many prizes more locally, including the Len Lickorish Memorial Prize for a String Player of Promise at the Royal Over-Seas League AMC 2018, as well as becoming an Artist with City Music Foundation in 2017.
Gwenllian's career has taken her across the globe, both to perform and to study. She has performed in prestigious venues alongside renowned artists, including Rebeca Evans, Imogen Cooper, Al Jarreau, Matthew Rees and Bryn Terfel. Gwenllian toured the UK alongside the release of her debut album, 'Dusk to Dawn' and her playing was praised for its rare "liquid legato" and "compelling mellowness". She has had the pleasure of studying with wonderful teachers in some of the best institutions across the world, with degrees from the Royal Welsh College of Music and Drama, The Juilliard School and the Royal Academy of Music. In addition to substantial financial support from scholarships and grants, Gwenllian also received many accolades during her studies, including the William Schuman prize for outstanding achievement and leadership in music from The Juilliard School. Her studies afforded her with fantastic opportunities to work with other musicians and artists, to develop her love of chamber music as well as expanding the harp repertoire.
Alongside her blossoming performing career, Gwenllian is a committed teacher, be it as a private harp teacher, a leader of a workshop, a test subject for composers and their new music or in public masterclasses where her tips can help both the harpist and the audience. She has over a decade of experience teaching students of all levels, abilities and ages, and loves helping her students reach their potential and expand their love of music and the harp. Gwenllian's students were her inspiration to return to a favourite past-time of hers, composing, and she was finally convinced to publish some of her more advanced works to coincide with the release of her debut CD. Her most popular piece to date, Strawberry Moon, has been set on the Trinity College of London harp exam syllabus and has been performed several times on the radio via BBC Radio 3 and BBC Radio Cymru. Visit Gwenllian's website to find out more about current and upcoming projects.
August 2021