Duo Aguirre-Rocco

Flute & Piano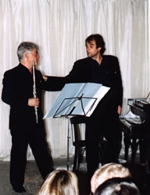 The duo Aguirre-Rocco consists of the pianist and composer Pablo Aguirre and the flutist Luis Rocco. Both obtained great acceptance in Argentina.
Their acting in unison of the two musicians create a symbiosis of composition and interpretation. Aguirre's emotionality complements with the richness of shades in Rocco's playing.
Frequently the flute, as the melody leading instrument, gives the interpretation an element of airiness, while the stimuli come from the piano. The duo's repertoire consists exclusively of compositions by Pablo Aguirre.