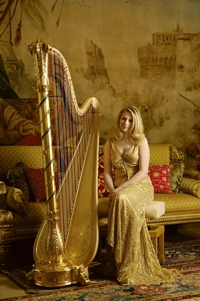 In 2007, Claire Jones was appointed Official Harpist to His Royal Highness, the Prince of Wales. Born in Crymych, Pembrokeshire in 1985 Claire began her musical education at the age of 7. She excelled equally on the violin, harp and piano before deciding to pursue a career as a harpist. As a schoolgirl she performed extensively on all three instruments receiving numerous prizes at competitions and festivals including the National Eisteddfod and National Urdd Eisteddfod of Wales. Perhaps a sign of things to come, at the age of 16 she first performed for Her Majesty the Queen and the Duke of Edinburgh.
In 2003 Claire began her studies at the Royal College of Music. Notable solo performances during this period included concertos with the Welsh Sinfonia and the National Youth String Academy of London and recitals at the Fishguard International Music Festival and Aberystwyth MusicFest. She also participated in masterclasses with some of the world's finest harpists, including Marisa Robles and Isabelle Perrin. In 2006 Claire won the Royal College of Music Harp Competition as well as the solo harp competition at the National Eisteddfod. She was also a finalist at both the 3rd International Harp Competition in Lille, France and the Camac Harp Competition, North London. Under the guidance of her then teacher Ieuan Jones she graduated from the Royal College of Music in 2007 with 1st Class Honours.
Since being appointed HRH's official harpist Claire has performed for members of the Royal Family on numerous occasions. Engagements have included performances at Windsor Castle, St. James' Palace, Highgrove House, Clarence House, Cardiff Castle, and Dumphries House, Scotland. In December Claire was invited by Valery Gergiev to join the Mariinsky Theatre Ballet Orchestra as guest artist for a concert at Windsor Castle in the presence of Their Royal Highnesses. She was also asked by the Royal Academy of Music to conduct a private performance for Her Majesty the Queen when she visited the Conservatoire earlier this year.
Notable public appearances over the past year have included solo performances at the opening ceremony of the Llangollen International Eisteddfod, Bryn Terfel's Faenol Festival (in association with Live Music Now) and Cambridge Summer Music Festival. Alongside fellow harpists Catrin Finch and Jemima Phillips, Claire also performed a specially commissioned piece by Karl Jenkins at the opening gala of the European Harp Symposium at the Millennium Centre Cardiff. Live television and radio broadcasts last year included appearances on GMTV, BBC, HTV, S4C news, S4C Wedi 7, Classic FM, Radio 3, Radio Cymru, Radio Wales, Radio Ceredigion, and Radio Pembrokeshire.
Claire recently made her London debut at Cadogan Hall with the English Chamber Orchestra for the premiere of Patrick Hawes' Lazarus Requiem. Later in the year Claire will again collaborate with Patrick Hawes for the premiere of his piece for solo harp and string orchestra – a specially commissioned piece for HRH the Prince of Wales's 60th birthday celebrations.
Other highlights for 2008 include a performance of the Mozart flute and harp concerto with William Bennett and the ECO, concertos with the European Union Chamber Orchestra, the Welsh Sinfonia, and performances at London, Plaxtol and Howden Music Festivals. She has also been invited to take part in a special harp weekend at Chethams Music School, in which she will perform a solo recital, and host a number of workshops and masterclasses as a guest teacher..
In December Claire launched her debut CD 'Touching Gold' through Kissan Records and is now available in well know Music stores around the UK. In addition, she will be making appearances in support of her chosen Charities – The Prince's Trust, The Prince's Foundation for Children and the Arts, and Wellbeing of Women. With support from the Victor Salvi Foundation she will be conducting harp workshops in schools and also working on behalf of Live Music Now throughout the UK.
Currently studying with Skaila Kanga as a postgraduate scholar at the Royal Academy of Music, Claire is one of the first recipients of the Prince of Wales Advanced Study Awards Scheme, aimed at helping Wales's most outstanding young musical talent. She is kindly supported by the Victor Salvi Foundation, the Cork Fund and the Countess of Munster Trust.
(Biog dated May 2008)