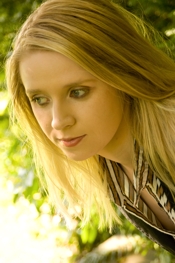 Claire Jones - Touching Gold
By the time I was 7, I had already, with the encouragement of my Grandmother, began my journey towards becoming a musician through piano and violin lessons. However, I was not introduced to the instrument that would transform my life until my 10th birthday; now 12 years later, it is the love of my life; the harp.
The post of Official Harpist to the Prince of Wales was one of my main ambitions for several years since it was revived by Catrin Finch in 2000; and for me to finally achieve this is a dream come true. In June 2007, under the guidance of Ieuan Jones I graduated from the Royal College of Music with 1st class honours. My life has since changed dramatically.
Every second representing His Royal Highness has been an absolute honour on a personal and professional level. I now undertake a brand new chapter in my life by eagerly pursuing various projects close to my heart, my work with the Prince of Wales' charities- the Prince's Trust, the Prince's Foundation for children & the Arts, my personal choice of supporting the Welbeing of Women, the presentation of harp workshops in schools, and of course the release of this, my debut CD.
I began working on the tracks in early 2007 with the aim of producing a CD that appeals to people of all ages, nationalities and walks of life. The CD reflects my musical life so far; during my; during my childhood I played as a violinist in many youth orchestras, and as a pianist accompanied many of wales' leading choirs. In the same way the CD is varied and filled with my favourite pieces from the world of violin playing, to jazz standards, to my own arrangements of harp solos.
It has been a privilege for me to have spent my childhood in a Welsh speaking community such as Crymych, and I feel in debt to so many people who have encouraged and supported me over the years. They will always hold a very special place in my heart.
I will continue with my studies as a Postgraduate Scholar at the Royal Academy of Music under Skaila Kanga.
Thanks
I would like to sincerely thank all my friends from the RCM, and freelance musicians in and around London who devoted so much time and effort into supporting and helping me create this CD, and did so with such enthusiasm. I will always be truly thankful to you all.
I would also like to thank the following:
Dewi Ellis Jones(Percussion)
Royal College of Music Studios, London
Hywel, Catrin, Ron and Marianne for all their encouragement and support
Ieuan, Buddug, Harry, Malcom, Skaila and all my teachers over the years for their inspiration and guidance
Mum, Dad, family and friends for believing in me.
I would like to dedicate this to a very special person, my Grandmother, whose love and support meant so much.
Gyda chariad iti Mamgu...
Claire xx
Claire is very grateful to the Victor Salvi Foundation and Peugeot Imperial Garages Haverfordwest for their kind sponsorship.
Producers : Hywel Wigley/Marianne Pateman
Gwaith Celf/Artwork:Betsan Haf Evans
Ffotograffiaeth/Photography:Keith Morris