The Duplets
Fraya Thomsen and Gillian Fleetwood
Scottish Harp & Song Duo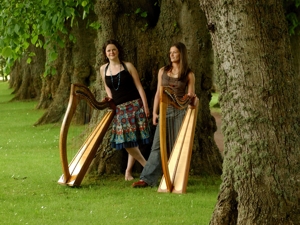 Brought up in the Highlands of Scotland, Gillian Fleetwood and Fraya Thomsen first met in musical workshops at Balnain House, Inverness. Both went on to study in Glasgow where their friendship and musical partnership continued to develop and resulted in the formation of The Duplets, who debuted with a sell-out concert at the Edinburgh International Harp Festival in 2005. They have since played, and often taught, at many other festivals including the Edinburgh Fringe, Celtic Connections, the Green Man Festival, the West End Festival, Blas, Solfest, Folk Alliance International, Harfentreffen and the Dinan Harp Gathering.
The Duplets specialise in harp, song, and group music for all ages. As well as their engaging performances at concerts and festivals across the UK and Europe, they have run workshops for, among others, The Clarsach Society, The Edinburgh International Harp Festival, and Celtic Connections. They have written for the Journal of the Scottish Harp Society of America and in an exciting new departure composed the soundtrack for a film by Sam Firth, "The Worm Inside".
"Tree of Strings", the Duplets debut album, featured many of their own compositions nestling between the ancient and the contemporary with musical support from Duncan Lyall, Gabe McVarish, Tam Kinsella and Donald Hay. It was highlighted as album of the month on Celtic Music Radio and album of the week on BBC Radio nan Gaidheal. Robbie Shepherd featured them on his 'Travelling Folk' show, Mary Ann Kennedy chose their song 'Love' as a favourite on her 'Global Gathering' BBC Radio Scotland programme, while their music video, "The Queen of All Argyll" (2008) won an Albert Award. In 2009 their drive and enthusiasm to perform and promote their music took them to the finals of the Prince's Trust Award for Young Highland Entrepreneur of the Year. They have been hailed as "leading lights of Scottish music" in Scotland on Sunday.
Their intertwined harps and vocals can also be heard on 'Long Case Clock Suspension" and "Apple Cherub Dove" both albums of Inverness singer/songwriter Claire Campbell's band, Abagail Grey, produced by Chris Geddes of Belle and Sebastian.
The future looks bright for the Duplets with the release of "Leverage" in the spring of 2012 and upcoming concerts in the UK, Europe and Canada enchanting new audiences with their undoubted talent and passion for the harp and its music, ancient and modern.