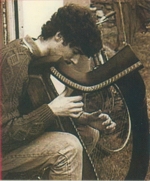 Paul Dooley (Harp)
Paul Dooley is one of the very few Irish people who play the Irish harp in its historical form and style - using a wire-strung harp, playing with the fingernails, and using the fingertips to damp unwanted string resonance.
Paul was born in Quebec of Irish parents and came to live in Ireland in 1980. He studied the construction of medieval Irish harps until 1985, and made twelve harps. He started his performing career on the wire-strung Irish harp in 1986 and his first solo recording 'Rip the Calico' was released in 1990. Paul has also appeared on numerous other CD recordings and television soundtracks.
Paul Dooley's harp is based on the historical Trinity College harp, though his harp is slightly larger in size and has four additional strings. Following the construction principles of Irish harps made before 1800 it has a one-piece willow soundbox and hardwood frame, and is strung with brass and bronze strings, tuned diatonically in an historical temperament.
When he decided to teach himself to play the Irish harp, Paul's guitar experience led him naturally towards the older fingernail playing and damping techniques historically used on the Irish harp. His repertory is mostly Irish traditional dance music, including jigs and reels, some of which he has learned from recordings and printed music but most of which he has picked up from other musicians: pipers, flautists and fiddlers. This music proves a real challenge for any type of harp and consequently hasn't been explored very much on the instrument. Paul Dooley, however, makes it sound easy!