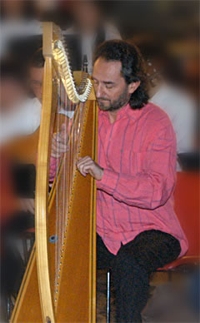 Dominig Bouchaud obtained the first prize of harp at the "Conservatoire National Supérieur de Musique" of Paris in 1978. His meeting at that time with traditional musicians from Brittany and Ireland opened to him the door of a new musical world and he became one of the best specialists of theCeltic harp. For several years, he has been doing research on the adaptation of Breton music to the Celtic harp, an instrument which has not been played in Brittany since the end of the Middle-Ages.
His approach is based on a thorough listening of traditional singers, and of bombard and biniou (the Breton pipe) players. He tries to bring together the monodic and modal characters of Breton music and the polyphonic possibilities of the harp.
At the same time, he still composes for the Celtic harp in a spirit of research which is both contemporary and linked to the cultural heritage of Brittany. He released several CDs: "Vibrations", "Heol Dour", "L'ancre d'argent" (Keltia Musique) and "Rèis" (Arte Nomad).
He is holder of the Aptitude Certificate of Teacher of Traditional Music and teaches at the National Music School of Quimper and also during courses in France or in other countries.
Dominig Bouchaud contact details
Conservatoire National de Musique
5 rue des Douves
F - 29000 Quimper
France
email: dbouchaud@hotmail.fr