Sleeve Notes
Rob Wiffin began his musical career as a trombonist, playing in the National Youth Orchestra of Great Britain before entering the Royal College of Music. On completion of his studies, he joined the Royal Air Force Music Services becoming principal trombone of the Central Band and then conducting the Band of the RAE Regiment, the RAE Western Band and the RAE Central Band. In 1998 he was promoted to Principal Director of Music, RAE. Away from the RAE he has built his reputation by conducting orchestras, wind ensembles and many of the country's finest brass bands. On leaving the RAE he relocated to Spain where he spent much of his time composing and arranging music and, to his surprise, was in demand as a trombone player. While maintaining his Iberian links, he has resumed his activities in the UK as conductor, adjudicator and examiner in addition to composing, arranging and teaching. In June 2007 he was appointed Professor of Conducting at the Royal Military School of Music, Kneller Hall.
The Sands of Time was commissioned by the High Wycombe Music Centre for its clarinet choir. The Music Centre is located at Sands School in High Wycombe, hence the reference to sand in the title. The first movement, Shifting Sands, gave me an excuse to utilise frequent changes of metre. High Wycombe's town symbol is the swan, and I envisioned an elegant glide to the second movement, Serenade. The last movement, The Dancing Lady, reflects their conductor's passion for salsa dancing. My intention in composing the piece was to give the players some fun, and to provide interest to all members of the choir. The language is tonal but there is a fair degree of rhythmic intricacy. RW
Gordon Jacob 1895-1984. After his initial schooling at Duiwich College, Gordon Jacob became a student at the Royal College of Music in London, where his tutors included Stanford, Parry and Howells. He taught briefly at Birkbeck and Morley Colleges, also in London, before returning to the Royal College as a lecturer in 1926 remaining there until his retirement in 1966.
Introduction and Rondo was composed in May 1972 and the first performance took place that month in Kempson Parish Church, Bedfordshire. The piece demonstrates the composer's ability to produce well-crafted music for just about any combination of instruments and his empathy in particular for wind instruments. The clarinet choir was a relatively little known medium in the UK and this piece quickly became a popular programme item with clarinet ensembles. The Introduction presents a theme arranged in masterly fashion to demonstrate the unique blend of the clarinet family. The initial theme is developed in the rondo, culminating in a spirited jig. It is alleged that, following a performance at the Royal College of Music to celebrate his 80th birthday, the composer said with typical humour "So that's what a clarinet choir sounds like l"

Wind in the Reeds was commissioned by The British Federation of Music Festivals with financial assistance from the Yorkshire Arts Association, It was composed in March 1983 and the first performance, conducted by John Reynolds, was given on the 1st August 1983 at The Harrogate Festival. A suite of four movements: a March, Humoreske, an arrangement of the song "Long, long ago" entitled "A Childhood Memory" and "Ballet Russe" an evocation ot the colourful world of the Russian Ballet.
Edwin Roxburgh began his musical life as a chorister at the Liverpool Anglican Cathedral, attended the Matthay School of Music in Liverpool, played in the National Youth Orchestra of Great Britain and won a double scholarship to the Royal College of Music. Further awards enabled him to study with Nadia Boulanger in Paris and with Luigi Dallapiccola in Florence. After he had completed his studies, Edwin was appointed principal oboist in the Sadlers Wells Opera. Subsequently, while a teacher at the Royal College of Music, he began a highly successful career as an oboist, establishing himself as a major interpreter of contemporary repertoire. He also established and conducted the 20th Century Ensemble of London. He has composed over 60 works for a wide range of performers and ensembles. In 2003 he was appointed Vaughan Williams Fellow in Composition at the RCM and awarded a Leverhulme Research Fellowship.
Nebula I was composed for, and given its first performance by, the clarinet section of the National Youth Wind Orchestra of Great Britain. The programmatic character of the piece, indicated in the title, is unashamedly intentional. The computer-enhanced photographs which the astro-physics world has provided in recent decades inspire images of incredible beauty, which seem to call for musical reflection — a perception which renaissance astronomers called 'the harmony of the spheres'. It is this imagery that informs the piece with the nearest and most spectacular nebula in the constellation ot Orion as the focus. A clarinet choir is made up of instruments containing a wide range of colours and a register of several octaves. Such a palette is the perfect ingredient for textural cascades and kaleidoscopic shifts which the music indulges. It is an imaginary space trip where the mind may wander through the camera's eye into the far reaches of the astounding universe. ER
James Rae studied at the Gulidhall School ot Music and Drama trom 1975-79. Since leaving the Guildhall, he has pursued a highly successful and varied career in music. As a player, he has worked in many West End and Royal National Theatre productions and with some ot the country's leading orchestras and ensembles. Projects have included the EMI album 'Classic Ellington' with Sir Simon Rattle and the C.B.S.O. Saxophone Quartet playing has featured strongly in his career and he is leader of the Phoenix Saxophone Quartet which have given many recitals and broadcasts. As a composer, he is one of Europe's most published writers of educational wind music. As a teacher, he has held many posts in both the state and independent sector and has tutored and conducted on numerous courses. He is currently saxophone professor for the National Youth Orchestra of Great Britain.
Three Southern Sketches was commissioned in 2005 by Chris Hooker and the Thameside Clarinet Choir. Railways have been a lifelong passion ot mine so, as I was given a pretty free hand, I composed the work along railway lines, pardon the pun! The first movement, 'The Train Now Approaching...' depicts exactly that - a train approaching a station and slowing to a halt. The second, 'The Waiting Game' portrays a situation familiar to us all, the waiting on an empty platform staring in hope at a blank indicator board. The third movement, 'Fast to Victoria' was inspired by the rapid commuter trains that zoom effortlessly through suburban stations on their route from Brighton. JR
Percy Grainger
Molly on the Shore, arr. Andrew Smith, is based on two reels taken from The Petrie Collection of the Ancient Music of Ireland edited by Charles Villiers Stanford. It was originally published in 1907 for string orchestra. Grainger was very fond of wind instruments and the sonorities produced by different instrumental combinations. His compositions for wind band feature all members of the clarinet family, so we feel sure that he would have enjoyed this arrangement.
Simon Speare was born and brought up in Cornwall. He studied composition with Simon Holt at City University, London. His music has been widely performed by professional and amateur performers and has been broadcast on national radio and television. He was Composer in Association with London Concert Choir and Composer in Residence at the Centre for Young Musicians, London. He is artistic director of the ensemble Big Noise, who released their debut CD in 2005, and he has devised and presented a contemporary music show on Resonance FM. He teaches composition at both The Purcell School and the Royal Holloway College. He has also been a lead composer on the award winning SPNM Sound Inventors education project.
Jiggery-pokery. Everything in this piece is derived from a long, rumbustious tune, a kind of rustic peasant dance invented solely by me. It's a bit like a jig, which led to the title; but the process of composition is always jiggery-pokery - underhand, scheming, hocus pocus anyway. The work is dedicated to David Roseveare and the Ealing Clarinet Choir and Ensemble, who commissioned the piece and first performed it in November 2006. SS
Gordon Lewin 1921 -2008
Gordon Lewin, clarinettist, saxophonist and composer spent most of his career in the recording studios playing for films, radio and TV. He also composed and arranged music with over sixty published works for wind instruments of which many are for clarinet ensemble.
Calle de las Flores — Dances from Andalucia was commissioned by the BCE as a follow-up to "The Grand Old Duke of York" composed in 1995, and was written for the September 1996 British Association of Symphonic Bands and Wind Ensembles Conference at the University of Warwick, and the London debut of the BCE in November of the same year at The Poets' House, Earls Court Square. Based on traditional dances and rhythms from Andalucia, it reflects a long-standing love affair of Gordon's with that region of Spain, which has contributed a variety of indigenous dance forms including soleares, panaderos, sevillanas and zapateados. The title translates as 'Alley of the Flowers', a narrow street behind the Mezquita in Cordoba off which there are courtyards renowned for their profusion of flowers.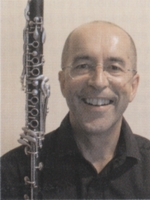 Charles Hine studied clarinet at the Royal Academy of Music where he received numerous awards including the Geoffrey Hawkes Prize for Clarinet, the Lady Holland Prize for Composition and the Recital Diploma. During his studies he won the "Young Musician" Award for South East England and has since been honoured with an ARAM. Since the early 1970s Charles has followed a career as a clarinettist, performing in principal positions with some of Britain's leading orchestras as well as continuing to give solo recitals and concerto performances. He has premiered many works for solo clarinet and is a founder member of the Vega Wind Quintet. Charles is deeply involved with the promotion of wind music and especially its educational aspect, including being Chairman of the British Association of Symphonic Bands and Wind Ensembles (BASBWE) Education Trust and a former Chairman of the national association of BASBWE. He is currently Curriculum Manger for Higher Education Music and Head of Woodwind and Performance Studies at the Coichester Institute, Centre for Music and Performing Arts. He is director of the Essex Youth Symphonic Wind Orchestra and for many years directed the Royal College of Music Junior Department Wind Orchestra and Clarinet Choir. He has also been invited to be a guest conductor by orchestras and bands in England and Scotland. Much in demand as an adjudicator, he has chaired the assessment panels for the National Concert Band Festival and the National Festival of Music for Youth, as well as leading seminars and giving clinics and master classes on all aspects of clarinet, wind ensemble and band playing.