Schumann & Brahms for bassoon and piano
I have always been aware that the full range of expression of the bassoon has rarely been tapped, and that the great composers of the late Classical & early Romantic period wrote virtually nothing for the instrument as a soloist. As this period contains most of the finest music ever written, and the bassoon was, perhaps, inadequate at that time to express what Schumann, Brahms and others wanted, there is thus a large gap in bassoon repertoire.
In the latter part of the 19th Century and the 20th Century the bassoon developed enormously in its expressive capabilities - a development much exploited by Ravel, Stravinsky and Shostakovitch, for example - and bassoonists consequently developed their expressive and poetic capabilities accordingly.
When I went to work in Hong Kong in 1984 I met and began to work with Margaret Lynn, whose feeling for music and ability to intuit my every musical idea made performing a living, vital experience. When I returned to the London Symphony Orchestra in 1987 we determined to put down to compact disc the results of our three-year musical partnership, concentrating on Schumann and Brahms, as these were the two composers with whom we both felt most empathy.
Originally this project was undertaken purely for our own fulfilment, but as time has gone by colleagues, fellow musicians and students have persuaded us to issue the disc, and I sincerely hope that it will entertain, interest and possibly convince others that it was worthwhile. In any case, we had a great deal of joy from doing it. Martin Gatt
THE ARTISTS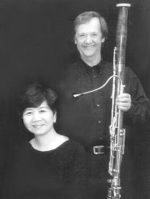 Martin Gatt has been principal bassoonist with the London Philharmonic Orchestra, the English Chamber Orchestra, the Academy of St. Martin-in-the- Fields, the London Sinfonietta, and the London Symphony Orchestra, and has performed and recorded as soloist and chamber musician all over the world. He is a Fellow of the Guildhall School of Music and Drama and also of the Royal College of Music in London where he is Professor of Bassoon.
Margaret Lynn enjoys a wide-ranging musical career as performer, lecturer, music educator, radio broadcaster and music editor. She has appeared in international festivals both as soloist and as chamber ensemble player, and her penchant for wind chamber music has led to performances with artists such as the late Anthony Camden, Peter Lloyd and John McCaw. She was Associate Dean of Music at the Hong Kong Academy for Performing Arts for many years and currently serves as Academic Consultant.
Martin and Margaret have performed together since 1984. They met in Hong Kong when Martin took a sabbatical from the London Symphony Orchestra to assume the position of Head of Wind at the Hong Kong Academy for Performing Arts, and there they covered much of the repertoire for bassoon and piano in recitals, radio broadcasts and recordings.
In addition to this album of arrangements of the music of Brahms and Schumann, they have also released a recording of transcriptions of songs for bassoon and piano, an album of chamber works by the English composer Madeleine Dring, and an album of wind trios by Poulenc, Françaix and Damase.