Sleeve Notes
F.J. Naderman - Sept Sonates Progressive op.92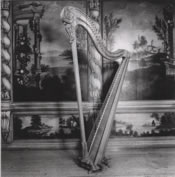 Francois Joseph Naderman, the son of a harp maker and music publisher was the most celebrated harp teacher and player of his day in Paris. His father Jean-Henri (1735-1799) made the kind of harp used in this recording. Francis Joseph managed to achieve favour and position with Napoleon, but after the Restoration in 1815 he was appointed harpist of the 'Chappelle et Chambre du Roi' and then in 1825 was appointed as the first harp professor at the Ecole Royale Conservatoire de Paris where he worked until his death. He also became a Chevalier de la Legion d'honneur. He composed a wealth of literature for the harp, both for himself as a chamber and solo musician, as loyal promotion for the instruments made by family's harp making business and also as teaching material.
The seven Sonatas performed on this CD formed the second part of his 'Ecole de la Harpe' published in Paris around 1832 and are cited on the front cover of the earliest available publication by Naderman publishers as being 'adopted for teaching at the Conservatoire of Music'.
Each sonata is preceded by a Prelude. All but one contain just two subsequent actual movements whilst no.3 has three. Many of Naderman's compositions ahow dramatic sentiment, and the speed with which he reputedly performed would reflect the great intensity behind works such as Sonata no. 6 of this set. The speed also reflects his technical brilliance : these sonatas are showpieces for the capabilities of the instrument and Naderman's own virtuosity. Only someone who had lived through the French Revolution could have produced the nervousness of the driven semiquavers in Sonata no. 2 in C minor's Allegro Maestoso first movement. By sheer contrast, classical elegance is displayed in the Anantino con Spirito second movement of no.3 and Tempo di Minuetto and Trio of no. 5. Fashionable styles are suggested in the last movement Rondoletto Anglaise of the sonata no 3. whilst the craze of all things Scottish is placated in the 'Reminizenza' theme of the second movement of no.6, another Rondoletto marked Allegretto Elegante and we find it also in the last movement of no. 4 marked Ecossaise Rondoletto - Allegretto con Sentimento. In his own way, the first of no. 6 reveals Naderman to be standing on the threshold of Romantic music with its dramantic intent, whilst in no. 7, the 'Reminizenza' Rondoletto Allegretto last movement reverts to a wit comparable with Haydn's writing. The rondo was the most popular and fashionable form for the last movement of a work at that time. Naderman's first movements are not in what today we would descrive as a conventional Sonata Form where the themes are developed in the middle of the movement with every last possibility wrung out of them in the manner of his contemporary Beethoven. Here there are series of episodes instead with no development of themes, protracted to greater or lesser extent. The comparisons and parallels with Beethoven are justified, for in some ways, at the time, Naderman was the more successful composer-he after all, managed to hold on to changing political patronage. In his own way, he was struggling with containing dramatic power within the confines of the instrument and the form and language of the pieces. Words such as 'disperato', 'sentimento' and 'fiermente' pepper his writing just as often as 'elegante'. If Naderman's family had not been harp makers and Naderman had allowed himself to embrace the possibilities of the double-action harp, who knows where that might have taken him?
The harp used on this recording is a remarkable reproduction by Swiss harp maker Beat Wolf of a harp made by Naderman (pere), Paris in the 1770's. Authentic in tone, tension and decoration, it was a sheer joy to play. Hearing the captivating sounds created by this harp was like looking at a painting with layers of brown varnish removed- the sparkle and brilliance shone through.
In addition to expressing my respect and admiration for Beat's talent in making and restoring harps, I would like to give him my heartfelt thanks for his generosity in lending the harp and supplying photographs.
Louis XVI - harp built 1998 by Beat Wolf, Scaffhausen, after Parisian Masters of the late 18th century. Single - action pedal harp with crotchet mechanism, 39 strings FI - bb3. (Photo: Antonio Idone).

Danielle Perrett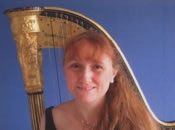 Danielle Perrett specialises in solo and chamber music on both modern and late 18th century harps and her recordings have been highly acclaimed. She studied harp with Daphne Boden at the Royal College of Music Junior Department, then with Renata Scheffel-Stein for her first music degree at Exeter University. Subsequently, she gained a Master's degree in Performance & Related Studies at Goldsmiths' College, London University.
Daniell's career has seen her perform, give masterclasses, adjudication and workshops with students and their teachers around the world. She is head of harp studies at the London college of Music Junior Department for 25 years. Her interest in good posture and healthy performance practice also led her to become a qualified Pilate's teacher.
Danielle has broadcast a great deal internationally and writes articles and reviews about harp related and other musical topics. She composes, edits and arranges harp music as well as researching the instrument and its repertoire from the late 18th to the early 19th centuries. An examiner for Trinity Guildhall, Danielle devises their international harp syllabuses.