Sleeve Notes
The second son of J.S. Bach, Carl Philip Emmanuel Bach was born in Weirnar on 8 March 1714. In a short autobiographical sketch written in 1773 at the behest of the Englisly historian Charles Burney, Bach stated that his father, was his sole musical tutor and by the age of eleven he was reputed to be able to play the whole of his strict teacher's formidable keyboard output. In addition to such a thorough musical training Bach also received an excellent general education, initially at the Thomasschule in Leipzig (where his father had moved in 1721) and later at the Universities of Leipzig and Frankfurt an der Oder, studying law at both.
During the completion of his studies in Frankfurt Bach composed his earliest works and also, he tells us, directed concerts not only 'for a musical Akademie but also for all the public concerts on ceremonial occasions'. It was presumably such activities that by 1738 had brought him to the notice of the Crown Prince of Prussia, the future Frederick 11 (Frederick the Great) in nearby Berlin. An enthusiastic and capable composer and flautist, Frederick had already assembled a prestigious group of musicians around him that included J.J. Quantz, his music master, C.H and J.G. Graun and the Bohemian-born. brothers Franz and Johann Benda. On the verge of setting off on foreign travels in the company of a young gentleman, Bach cancelled his arrangements and accepted Frederick's offer to join his musicians as court accompanist, a more broadly based post than the description implies, since at various times he was called upon to act as teacher and also as a soloist at the chamber music concerts held at least three times a week at the King's palace, Sans Souci. But in general Bach, poorly paid and artistically under-valued, must have found his employment in Berlin little better than drudgery emphasised by a relationship between an absolutist King and his unusually well-educated musical servant that was never better than uneasy - Burney indeed claims that Frederick 'never was partial to Emanuel Bach, the greatest of them [the King's musicans] all'.
So why did Bach remain In Berlin so long? One of the answers is that it was not for Kant of attempting to leave. In 1753 he applied for a post In Zittau, following that two years later with an unsuccessful application for his father's old position of Thomaskantor in Leipzig, but it was not until March 1768 that Bach finally left Berlin to become Kantor and music director in Hamburg, succeeding his recently deceased godfather Telemann. There were also consolations in Berlin. Bach's duties at court allowed him time not only for composition (many of his greatest keyboard works date from this period) and the writing of this important and highly influential treatise Essay on the True Art of Playing Keyboard Instruments, but also to take sufficient pupils - among them his youngest brother Johann Christian - to supplement his meagre court income. The sheer diversity of cultural life in Berlin must too have been a considerable attraction, for by the middle of century Frederick had established Berlin as a centre of Enlightenment thought and ideas where Bach's closest friends included the poets Lessing, Ramler and Gleim. Although the five flute sonatas on the present disc all date from the long period of Bach's employment with Frederick, it must be doubted that they were commissioned by the King. His conservatism and lack of enthusiasm for Bach's music coupled with loyally insatiable demands on Kapellmeister Quantz to provide him with concertos and sonatas make it more likely that these sonatas of Bach's (who, unlike Mozart, had a great affection for the instrument himself) were composed for chamber gatherings away from official court functions. Despite this, and in common with most of Bach's chamber music, they are characterised by a conservative style that would have done little to offend Frederick's tastes, displaying few indications that they are the work of the composer of the boldly experimental keyboard works or the terse disruptive angularity frequently encountered in the outer movements of the symphonies.
The earliest work is the Sonata in C, Wq. 149 (73*) (Helm 573), composed in 1745 and originally a trio sonata whose Baroque style is at once evident from the canonic entry of the flute, driving rhythms and ritornello structure. This last characteristic is also a feature of the succeeding Allegretto that unusually ends each episode with a cadential point. The Sonata in D, Wq.83 (H.505) also betrays its early origins in the use of ritornello form and imitation in the outer movements, the bright allegro un poco opening nevertheless managing a nod in the direction of the more modern expressive style, a gesture quite absent from the long, calmly flowing Largo that follows. For long stretches of the movement the harpsichord part pursues an important independent line, evidence of a tendency for accompanied sonatas to become increasingly keyboard-led. Like Wq.149, the Sonata in E, Wq.84 (H.506) of c. 1749 probably started life as a trio. The most personal of this group of sonatas, it is also the most striking, with an opening Allegro that despite the major key is given an air of affective melancholy by unexpected harmonic shifts. The expressive minor-key Adagio di molto takes the listener into an uneasy, introverted world of dissonant harmony and chromaticism, a mood at once lifted by the cheerful principal theme of the final Allegro assai. Stylistically the most advanced works are the two G Major Sonatas, Wq.85 and 86 (H.508 and 509) dating from 1754 or 1755. Presumably planned as a pair, each is quite differently laid out, Wq.85 opening with an easy-paced Allegretto in an embryonic sonata structure succeeded by a quietly undemonstrative Andantino, whilst Wq.86 reverses the order by placing the quicker movements after an Andante built on a graceful theme that reminds us that Bach did not leave such galant ideas solely to his youngest brother.
© Brian Robbins, 1997
CHRISTOPHER HYDE-SMITH and JANE DODD flute and harpsicord duo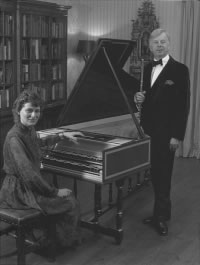 Christopher Hyde-Smith and Jane Dodd first performed together at the Stowe Summer School. Here they established an immediate musical rapport and were greatly encouraged by the enormous enthusiasm with which their concerts were received. A regular duo partnership was formed in 1984 following an invitation to play the complete works for flute and keyboard by Bach and Handel as part of the City of London's celebrations for the tercentenary of the birth of these composers.
Christopher and Jane are familiar through their numerous broadcasts on Radio 3 which have included first performances of two works by William Alwyn, the first UK performance of Damase's flute sonata and the first broadcast of Fauré's Morecau de Concours.
They have given highly acclaimed recitals to capacity audiences at the Arundel, Chester, Kingston and Newbury festivals and have played in France, Austria and Malta.
Composers who have written and dedicated works to them Include Philip Gates, Stephen Dodgson (a piece for the flute d'amore) and Edwin Roxburgh (a suite of six movements, each for a differently pitched flute).
Jane and Christopher were married in 1985 and have two daughters.
Credits
Produced and recorded by Nicholas Parker
Recorded in St. Bartholemew's Church,19-20 March 1996
Designed by Studio B, The Creative People
Cover photograph of the Pantheon, the,Gothic Cottage &
Turf Bridge, Stourbead, Wiltshire courtesy of Viewfinder

  
All rights reserved. Unauthorised copying, hiring, lending, public
performance and broadcasting prohibited