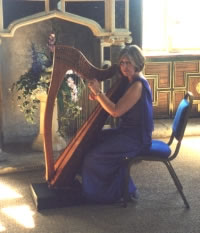 Jean who was born in Manchester is a performer and teacher on the traditional gut strung harp. As a child she received a classical, musical education, studying the piano and later the organ.
After leaving university, where she gained a degree in geography and geology and a teaching qualification in music, she became a teacher. She has many pupils and is much in demand as a teacher running workshops all over the country. Jean is also involved in raising the awareness of the harp in Derbyshire and has organised a number of highly successful workshops and concerts.
Her first book of arrangements of English Renaissance pieces for the small harp was published in 2002. She is at present working on arrangements for a group of dances dating from around 1500 which were found amongst the family papers of one of the ancient families of Derbyshire.