Le Tombeau de Couperin


Maurice Ravel



A Suite in three movements
arranged for Flute, Viola and Harp by
Skaila Kanga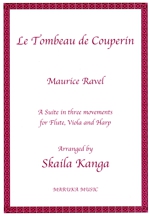 The music of Maurice Ravel continues to inspire generations of musicians, music lovers and especially harpists! It is with great pleasure that I present this new trio arrangement of Le Tombeau de Couperin for flute, viola and harp. I have chosen the three movements which most lend themselves to this famous combination of instruments: I. Prelude II. Menuet III. Rigaudon.
Duration: 12 minutes 30 seconds approx.
First performance by students of the Royal Academy of Music at Salvi Music, London on 22nd June 2023.
Timur Dzhafarov - flute, Jamie Howe - viola and Huw Boucher - harp
This work is dedicated to my dear friend Milda Agazarian in celebration of her 80th birthday in 2023.
Skaila Kanga - Professor Emerita of Harp, Royal Academy of Music, London.
Buy this music now £35.00 +p&p