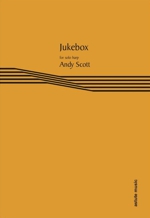 A major new work for solo harp in six movements by Andy Scott. Commissioned by and composed for Sioned Williams.
The world premiere of Jukebox was given by Sioned Williams at the Purcell Room, Southbank Centre, London in October 2014.
The 1950's were the heyday of the vinyl record jukebox, and this 14-minute work for solo harp mirrors the concept of a jukebox playing short 'singles' that differ in style and feel.
​
RPM - Settling into a groove with rhythms lightly bouncing over a strong pulse, RPM was composed in 2020 as an additional movement to Jukebox.
Jump - Angular and bold, this movement refers to the record player arm jumping on the vinyl record and is influenced by the jazz pianist and composer Thelonius Sphere Monk.
Vinyl - Vinyl records were introduced into jukeboxes in the early 1950's. This was an exploratory period in the jukebox history, and musically we 'feel our way' in this 'single', via dense and chromatic harmony, with moments of incisiveness alongside more introspective moments.
Groove - Refers to both the music relaxing into a groove, and also the single continuous groove that is found on a vinyl record.
Stylus - Fragile and delicate, Stylus has a transparent feel portrayed via the use of harmonics. The point of contact between a record playing device and the vinyl record, the stylus is often made out of sapphire or diamond.
Turntable - This final 'single' in Jukebox is rhythmic, bold, and complements the often bright and colourful jukebox exterior design. Titled after the rotating disk that spins the record on a phonograph.
Buy this music now £15.00 +p&p