The Wayfaring Stranger for Solo Pedal Harp
Trad. arranged Andy Scott
Edited Lauren Scott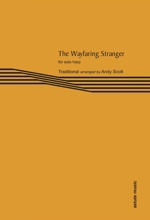 A beautiful and melancholy traditional tune, that lends itself to arranging with many varied and wonderful arrangements available.

Andy Scott arranged The Wayfaring Stranger for the 'Ever Open Door' CD collaboration with John Helliwell (Supertramp), releasing October 2020 (Challenge Records). Scored for clarinet, string quartet and hammond organ, it takes a harmonic journey with twists and turns through many keys; fairly chromatic at times, simple and open at other times.

With careful damping, nimble pedal work and focussing on phrasing, Lauren Scott has created a version of this arrangement for solo harp.
Buy this music now £8.50 +p&p