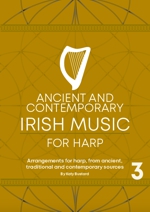 Ancient and Contemporary Irish Music for Harp

Arrangements for harp; from ancient, traditional and contemporary sources
Katy Bustard
Instrumentation:
Irish harp / Lever Harp (34 String)
Buy this music now £16.95 +p&p
This is a book of music designed for intermediate-advanced harp players interested in developing a stylish and interesting repertoire of Irish traditional music, from ancient, traditional and contemporary sources.

Katy has selected some of her favourite pieces from the ancient Irish harp repertoire, namely the Bunting Collection. Hailing from Northern Ireland, this collection is of particular interest to her as it was at the Belfast Harp Festival in 1792 that the young Edward Bunting transcribed the music of the harpers who attended, thus preserving the unique musical heritage of the Irish harp.

This volume also includes recent compositions by contemporary Irish traditional musicians, from the north of Ireland and Donegal. Katy loves to draw inspiration from the vibrant traditional music community performing and composing today, which is an endless source of creativity and inspiration.

This volume is a stunning collection of music, old and new. The ancient Irish harp repertoire is fused here with contemporary 'trad'. A stylish and authentic addition to your harp repertoire.