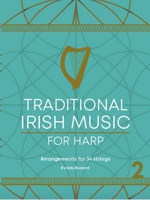 Traditional Irish Music for Harp

Arrangements for 34 strings
Katy Bustard
Instrumentation:
Irish harp / Lever Harp (34 String)
Buy this music now £14.95 +p&p
Traditional Irish Music for Harp: Arrangements for 34 strings is the second in a series of books by Katy Bustard, founder of Causeway Harp School in the north of Ireland.

This book contains stylish arrangements of a wide variety of tune types: harp airs, reels, jigs, slip jigs, polkas, hornpipes and slow airs. Melodic ornamentation and accompaniment variations are included in each arrangement.

This book is suitable for intermediate players and is a useful resource for teachers and students preparing for grades IV-VI in Irish Traditional harp.

Katy is passionate about teaching harp and is committed to contributing to the revival of Irish harp music. This is a collection of tunes that are especially beautiful on harp and that she and her pupils thoroughly enjoy playing.

This book will help you build a beautiful and stylish repertoire of authentic Irish traditional music on harp.