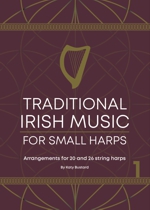 Traditional Irish Music for Small Harps

Arrangements for 20 and 26 string harps
Katy Bustard
Contents:
15 Solos (two arrangements of each) - see contents
Instrumentation:
Irish harp / Lever Harp (20 & 26 String)
Buy this music now £14.95 +p&p
These tunes are ideal for beginning-lower intermediate harp players and are suitable for grades Step-Grade III in Traditional Irish Music.
The book contains a wide variety of Irish traditional tune types: O'Carolan, marches, airs, jigs, slip jigs, polkas, hymns and slow airs. Katy has selected tunes that sound especially beautiful on the small harp and that her pupils thoroughly enjoy playing.
There is a 20 string and 26 string arrangement of each tune, with the 26 string arrangements including some simple forms of ornamentation.
To accommodate harps without levers, all of the arrangements in this book can be played with the harp tuned in the key of G Major, with the exception of the 26 string arrangement of Elizabeth Kelly's Favourite, which has an F natural in the accompaniment.
This is an ideal resource for harp teachers and for those learning harp themselves at home