Sheet Music for Harp
Azaleas


Gary Carpenter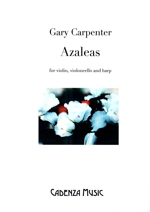 Suite for violin, violoncello and harp after the poem by Kim So-Wol.
In an article published in Modern Poetry in Translation Volume 13 (1998), Brother Anthony (An Sonjae) offers seven translations of Korean poet Kim So-Wol's Azaleas. These include a literal (and intriguingly impenetrable) word-for-word version and progress through ever more inventive flights of fancy. Unlike a single translation - and there are many by other translators - they reveal a bitterness that I found fascinatingly incongruous with my own perception of this beautiful species of flower. The dichotomy gave rise to this piece. Brother Anthony's versions (with the 'literal' version fourth) are reproduced at the end of the score.
Buy this music now £14.50 +p&p