Londonderry Air (Danny Boy)
Duet for Lever harp
arranged Louise Trotter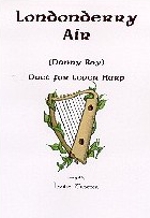 The oft-requested tune Danny Boy put in duet form for lever harp. Lyrics for Londonderry Air and Danny Boy are included, key of F, no accidentals, intermediate level, nice ending in harp 2.
Each part has its own separate score.
Buy this music now Score: £8.00 + p&p