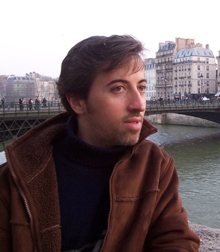 Esteban Benzecry is an Argentinean composer born in Lisbon in 1970. After receiving his diploma as professor of painting from the Buenos Aires Superior School of Fine Arts, Benzecry studied musical composition with H. Gerardi and S. Hualpa in Argentina and with J. Charpentier at the Paris CNR, where he was awarded First Prize by a unanimous jury in 1999.
He pursued his studies in composition with P. Mefano and in electro acoustic music with L. Naon and L. Cuniot at CNSM. His most recent works attempt a fusion between diverse aesthetic currents in European contemporary music and rhythms and folklore rooted in the Latin American tradition. Among the interpreters that have performed his works are. The Orchestre National de France, Orchestre National de Montpellier, Atlanta Symphony Orchestra, Fort Worth Symphony Orchestra, Orchestre Colonne de Paris, Orchestre Pasdeloup, Orchestre Lamoureux, and ensemble Itineraire, among others, as well as the principal orchestras of Latin America. He was distinguished by the Musical Critics Association of Argentina and Academie des Beaux Arts de l'Institut de France.
In 1995 he was composer-in-residence at the Yehudi Menuhin International Music Academy (Switzerland) and in 2004 he was winner of the Fondation d'entreprise Groupe Banque Populaire. He was resident composer at the Casa de Velázquez in Madrid from 2004 to 2006. In 2008 he received a John Simon Guggenheim Memorial Foundation Fellowship for Music Composition.

For further information and contact details please visit Esteban's web site: estebanbenzecry.com