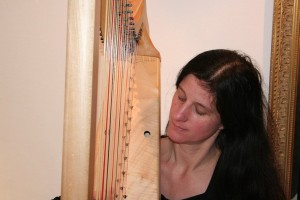 After she graduated in the advanced courses for concert harp 1985 at the university Mozarteum in Salzburg (taught by Prof. Oberascher), extended concert tours for old music have began not only all over Austria but also beyond in central Europe.
Anna Zauner-Pagitsch is specialized in historical chromatic harps, Italian triple harp and Spanish baroque harp with crossed strings (Arpa dopia & Arpa de dos órdenes) since she have visited master courses well-informed by Andrew Laurence King for both Italian and Spanish baroque harp. She won the O'Carolan contest for wire string harp in Ireland and is a founder member of many ensembles.
As a demanded baroque harpenist she is playing international concerts.
Anna Zauner-Pagitsch is most interested in historical, well-founded interpretations of music, which is especially composed for harp, from the three main important civilizations at that time Italy, Spain and Ireland, most favorable from the Early Baroque.
Her 4 solo-albums "Espanoletas", "Ascanio Mayone Libro II", "Le mie Arpe" and "Bach auf der Harfe" give a wonderful impression of harp music in Baroque Europe.