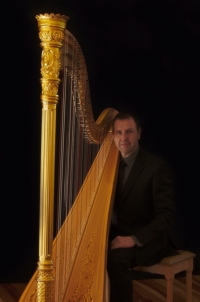 BRYNMOR WILLIAMS Educated through the Welsh language from an early age, it was at his first school that Brynmor came across the instrument which was to shape the course of his life and career. His teacher at Ysgol Pont Sion Norton was Sian Morgan Thomas and he continued at Ysgol Gyfun Rhydfelen studying with Elspeth Lewis. Such was his love for the harp that he stayed on at school for two years so that he could practise on the school harp as he did not possess an instrument of his own.
Following this, he entered the Royal Welsh College of Music & Drama studying with Ann Griffiths and Aileen MacArdle. Immediately on graduation he worked as a musician for the Royal Shakespeare Company before being invited to the Sultanate of Oman. There he was active as both performer and teacher, teaching at the School of Music attached to the Royal Oman Symphony Orchestra.
On his return to Britain, Brynmor undertook a Master's Degree in Business Administration and was offered a post at Clive Morley Harps. As a result of his many successes, Brynmor was then invited by Victor Salvi to undertake the direction of Salvi Harps Ltd in Cardiff where he became responsible for the Salvi retail operation both in Ireland and in the Scandinavian countries.
Business opportunities took him next to New Zealand, where he was persuaded to begin performing again. With his beautiful golden sound, Brynmor's harp playing came alive. With the Auckland Welsh Choir he introduced 'Y Delyn Aur' to a new world. Succeeding brilliantly in business left him little time for playing, but before taking the decision to return permanently to Oman, he instigated a composition competition for a harp solo. The prize winning work was played at the World Harp Congress in Sydney in 2014.
In October 2013 Brynmor returned to Muscat where he passed away on December 15th, 2014.