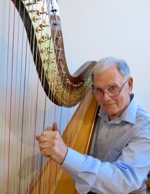 Derek Thomas was born in 1941 in the Carpenter's Arms, Efail Isaf, the home of the Bryant family. He began his lessons when only five, under the tutelage of Beatrice Botterill of Cardiff and then Eiluned Hutt of Tonyrefail, soon after the death of his grandfather, the celebrated Welsh Royal Harpist, Tom Bryant. Osian Ellis judged Derek, then only 9, the winner of the under 15's solo harp competition in the 1950 Caerphilly National Eisteddfod. At 11, Derek moved with his family to Portsmouth and continued practising and playing, including performing on Huw Weldon's TV programme, 'All Your Own.' In 1957, after becoming a finalist in the Daily Mirror Young Instrumentalist Competition, he was invited to join the National Youth Orchestra of Great Britain, and these four years provided invaluable experience under conductors like Sir Malcolm Sergeant, Walter Susskind, Jean Martinon and Malcolm Arnold.
Career choices led Derek into teaching, then later, into the Royal Navy, and his harp playing, both as a soloist and with various orchestras and ensembles, was still much in demand. He even took his harp to sea on a guided missile destroyer HMS Devonshire, where he frequently entertained his shipmates as well as at an official reception for Russian Naval personnel when in Odessa.
After retiring, he undertook several courses at Oxford University Continuing Education Department, in music composition and analysis with Peter Copley and Jonathan Darnborough. Their inspiration and encouragement led Derek to compose pieces for solo harp.