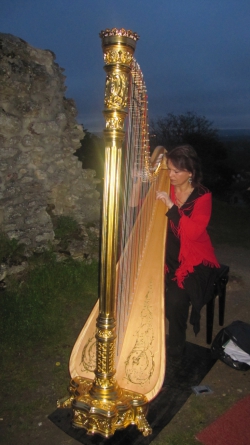 Ernestine Stoop was born in Utrecht and began studying harp, at the age of eleven, with Titia Tieman-van der Laars. She earned her solo diploma in 1980, studying with Edward Witsenburg at the Sweelinck Conservatorium in Amsterdam. She then studied for two years with the legendary harpist Pierre Jamet, the authority on the works of Claude Debussy; who worked with the composer himself on his pieces written for harp. Ernestine Stoop studied chamber music in Salzburg with the violinist Sandor Végh.
After playing with the Radio Filharmonic Orchestra for 11 years, she is now dedicating her time to performing solo and chamber music (Harp Duo Ravel and Trio Janacek) as well as teaching. She is a member of the Nieuw Ensemble, Atlas Ensemble and Asko|Schönberg. She is harp-professor at the Royal College of Music in the Hague and at the Fontys High School of Music in Tilburg.
As a soloist she performed with such conductors as Hans Vonk, Ernest Bour, Jean-Jacques Kantorow, David Porcelijn, Ed Spanjaard, Reinbert de Leeuw, Rogier van Otterloo and James Last. She has recorded classical as well as contemporary music. She has worked closely with well-known artists like Mathilde Santing and Toots Tielemans and participated in theatre and film productions (e.g. with the Malinese Kora player Toumani Diabate). She has also enjoyed numerous productive sessions with composers such as Mauricio Kagel, Isang Yun, Stockhausen, Elliott Carter, Louis Andriessen, Franco Donatoni, Unsuk Chin, Tan Dun, Guo Wenjing, Theo Loevendie and Guus Janssen preparing their compositions for worlds first performances.
She initiated the 3rd and 5th European Harp Symposia (1995 and 2001) in Amsterdam and gave the first performance of Guo Wenjing's 'Concerto for harp and lyric soprano' in Amsterdam 2001. Recently a real Carillo-harp has been made for her. This is a unique 16th tone instrument designed by the Mexican composer Juan Carrillo.
Ernestine was Artistic Director of the prestigious 10th World Harp Congress 2008, which took place in Amsterdam in the 'Muziekgebouw aan 't IJ'.
She is a member of the Corporation of the World Harp Congress.