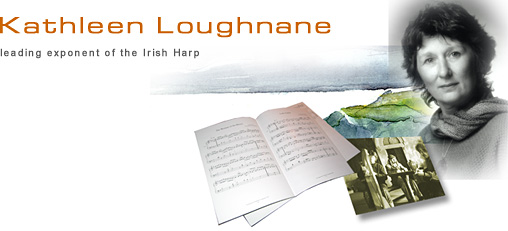 Kathleen Loughnane from Nenagh, Co. Tipperary, Ireland, began playing the harp at an early age and has been based in galway since 1982. She has a particular interest in arranging traditional Irish dance tunes and airs for the harp and researching the music of the Irish harper composers of the 17th and 18th centuries. In 1990 she co-founded the group Dordán, an all-female group whose mix of Irish and Baroque music has received wide acclaim. They received the National Entertainment Award for traditional music in 1993, and Bank of Ireland Award for traditional music in 1995. The group travels widely in Europe and the US.

Kathleen's arrangements for harp have appeared in several publications. In 1995 she published her first collection "Harping On" and was awarded the Dr. Annie Patterson medal at Dublin Feis Ceoil for her harp arrangements.

Kathleen teaches harp and has given workshops in Ireland, the US, Japan and at the Edinburgh International Harp Festival and at the Copenhagen Folk and Harp Festival.