Vibrarpa is a unique duo - one of a kind. They released their debut CD "Scianti" in June 2002 on which they perform a diverse selection of arrangements from classical to contemporary, from jazz to pop - creating a duo and a repertoire. The release was followed by two years of intense concert activity. They were invited to perform at international festivals and musical seasons receiving excellent public and critical acclaim as their repertoire moved to a more jazzy style with a pronounced rhythmical component. Among their many admirers was the harpist Vincenzo Zitello, who wrote "Dragon Fly" for the duo.
Vibrarpa's next project was "99%", a concert of original repertoire written by Bianchi and Moretti incorporating their special artistic style – where irregular musical form and odd time stay side by side with flowing melodies and sharp harmonies – finds its place. During this period they also created the incidental music for the theatre production "Dio galleggia in acque internazionali" by the Torre Rotonda Company.
In this edition, Vibrarapa - 99%, Raoul and Marco have written down the main melodies, harmonies & rhythmic patterns but in parts only indicate chords leaving the performers free to improvise and create their own personal versions. Vibrarpa's own interpretations can heard on the "raoulharp" Youtube channel or on Sound Cloud: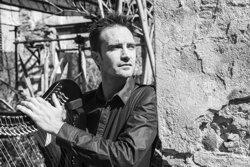 The Italian-Swiss harpist Raoul Moretti is a versatile and multi-faceted harpist with a very personal approach to the instrument which, over the years, has directed his innovative artistic career-path and personal style. His many interests have spurred him to engage with different musical worlds and other art forms from where entirely unique projects have evolved providing opportunities to collaborate with other international artists. Today he's one of the most innovating international harpists taking the instrument into different musical worlds - AvantGarde, pop-rock, world music, electronics, nu-dance, classic, free improvising; other art forms - dance, painting, film, video-installation; and different surroundings - theatre, clubs, disco, houses, streets, stations, medical centres.
He performs his innovative projects Harpscapes for electroharp, live electronics and visuals in the most important International Harp Festivals in Italy and in other countries like Swiss, France, Belgium, China, Paraguay, Chile, Brasil, Croatia, Serbia, Bulgaria, Poland, Spain, Mexico, Martinique, Dominique, Venezuela and at the WHC 2014 in Sydney, Australia. He joins a production of the Wuji Ensemble for an evening concert at the Hong Kong City Hall for WHC 2017. During the last few years he has taught in various Academies in Italy and at European workshops focussing on the electroharp, electronics, unconventional performance and improvisation. His album Harpness, released in 2016, explores a multi-sided approach to the harp in collaboration with various sound makers. He has recently started a new development project involving Laser and Laser Harp.
He's creator and Artistic Director of "Arpe del Mondo" an International Harp Festival held in South Sardinia and has been Artistic Consultant to Taggia In Arpa since 2013. He is a member of the Artistic Commission of the Italian Harp Association and a jury member for the International Competition Suoni D'Arpa.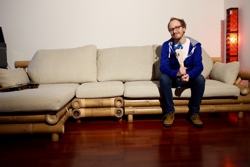 Marco Bianchi is an Italian vibraphonist, composer, arranger and a graduate in "Percussion Instruments". He has played with Classical / Contemporary Orchestras but for many years now has been exclusively dedicated to collaborating with jazz musicians such as Michel Godard, Roberto Gatto, Gianni Basso, Massimo Nunzi, Giovanni Falzone, Andrea Braido and many many others. Nowadays he's one of the most foremost Italian vibraphonists. He has performed in festivals all over Italy, Germany, France, Austria, Netherlands and Switzerland as well as recording on over 50 albums.
In addition to his concert performances Marco has won national and international awards, including the best scholarship for Berlklee College in Boston (USA). He is very active as a composer and author for Cartoons Music (Italy, France), has been broadcast on radio and TV (Sky, Rai 1, Rai 2 and Rai 3) and creates applications for tablets and smartphones. He was the professor of the Workshop of jazz vibraphone at the Conservatory of Novara, Como and Lugano. His Youtube channel and web based tutorials are followed worldwide.