Julian Martin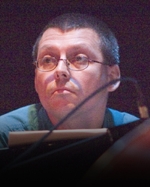 Julian Martin is a jazz pianist musician and composer currently living in Cardiff. He teaches jazz improvisation for all instruments at Cardiff's Gate Arts Centre, and for Cardiff University.
He has also written music for a number of films, and recently completed the score for the children's animated series "Igam Ogam" for Channel 5, S4C and ZDF enterprises.
Julian has also worked with many of the leading figures on the British jazz scene over the years including Guy Barker, Alan Barnes, Jim Mullen and Steve Waterman. In 2007 he founded the Wales Jazz Composers Orchestra, with fellow jazz musicians Huw Warren and Paula Gardiner. The band toured Wales in 2008, and was featured on the main programme at Brecon Jazz Festival, and subsequently televised on S4C.
He has taught jazz principles to a number of leading welsh harpists over the years, and is aware of the difficulties players face when trying to play in the jazz idiom. This book of pieces will hopefully encourage more harp players to overcome those difficulties, and reap the rewards of playing improvised music.